Before You Start A Website, Ask Yourself This, as creating your own website is not as hard as it used to be. However, planning, setting goals and taking action beforehand is vital to your success online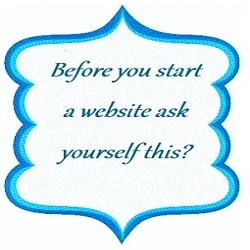 Before you start a website ask yourself this?
That is if you want to learn the right way to be successful online
There can be many questions but I have brought it down to two main ones.
What is my purpose for creating a website?
What are my goals?
These two questions are very important and can determine your future online.
If you already have a website created and you are not succeeding then you may also need to ask yourself the same question.
However, for the majority, this is mainly for those planning or thinking of creating a website online for various reasons.
Regardless if you want to create a website for a brick and mortar business or wanting to start a small business online working from home
It does not matter if you have technical knowledge, a little of knowledge or none at all.
Problems and possible failure will follow you unless you have thought it out first with what you what in a website for your business.
As you can see planning before any project is paramount regardless of the type of business, you have or want to have.
No business should cut corners if they really want to be successful long-term.
So why should you in creating your own business website.
OK, so now we have some questions in place, let us look at what they mean.
Remember this is about you and is the driving factor to your success in life should you take action based on what you have written.
What is the purpose of

 creating a website?
One that can also help answer and even clarify deeper on the second question mentioned below this.
Here are some basic and most popular reasons.
For many people, the age-old answer might be I want to make money online.
I want to be my own boss and not have to work the 9-5 J.O.B. (Just Over Broke)
I need to pay my bills and/or help support my family
I want to share the skills and experience I have for others
I would love to promote products and or services
I love to write and share my life experience with others
Once you have worked out the purpose we go to the next part
What are my goals?
As mentioned earlier, planning is essential to your success and one of the most important aspects is setting goals on what you what to achieve.
This needs some serious thought and is best to write your goals down physically using pen and paper this creates a more powerful impression in the mind than just talking about it or even typing them on the computer.
Of course, we all want to make extra money but that is only one part of the end- result from your actions.
If you want to earn money online, you would need to start first knowing your purpose and then creating some goals.
Even though money may be the main reason for creating an online business, it should not become the sole focus.
Yes, it is important but by no means the main goal in life.
Just saying that I want to be successful and make money is not the ideal goal to set.
You could earn $1, which means you were successful and made money as that was the intention you set at the start.
Simply you got what you asked for nothing more nothing less.
Remember the saying "Be careful what you ask for because you might just get it"
So set some intentions to your goals but also include a time span.
Just like a business might set up a budget for the month, at six months even yearly ones.
Here are some tangible money goals you can set.
Question #1: How much money would you be happy to earn?
Are you happy with $1000 a month?
They are realistic goals if you apply yourself.
Question #2: How much would you be thrilled earning?
Perhaps twice the amount or more compared to your first answer.
These are two simple yet powerful money goals to set but you must be honest with yourself and realistic but never underestimate your talents either.
You can still aim high; just know not to expect this to happen overnight or within a month or two.
If you fall short of your target goal, no problem, just be proud of what you have achieved so far and it will give you more of an incentive and determination to not only reach your goals but even surpass them as well.
Which brings me to a third and important question?
Question #3: How much TIME are you willing to invest to achieve these goals?
If you are expecting that quick fix or overnight success, you will be very disappointed and most likely if you continue with that mindset of instant fixes it will lead you to failure or loss of money in your pocket falling to some of those frauds found online.
Just like a brick and mortar business, it takes time to build, it won't happen overnight but will happen if you want to be successful and take action.
Before answering this question, look back at your response to your purpose and your goals.
However, this time look deeply into your answers, you may need to make some adjustments as well.
Just be truthful and honest with yourself.
Now that you have done that, ask yourself with the answer you have given how much time am I going to make to get what I am seeking?
Perhaps you are working full-time and may only give a few hours a day if so make sure you devote that time without interruption.
If you are working part-time perhaps, you can add a few more hours.
For those with home-duties especially when you have kids it can get quite tiring to find that time to relax and allocate time for this.
Perhaps while the kids are at school or if they are, still at home when they are asleep you could set aside that time.
You know best but make it stick and never give up
In conclusion
I am just covering two important basics needed before starting a website
So asking yourself the questions on your purpose and goals should be the primary focus before you start a website.
Please write down your purpose in wanting to create a website along with what are your goals.
Then when you have done that ask the three questions on your goals.
If you see that you cannot find time then either your questions or you are not serious and important enough and may need re-visiting and adjusting.
OR
You may very well be happy working for someone else and live by your bosses rules if so good luck.
Perhaps you doubt your abilities and are afraid to succeed and work for what you desire in life.
Only you know the answers if they apply to you.
Only you know if you are prepared for success or failure.
Just know that The Journey begins with YOU!
Ok I am ready to start my journey in life for the better
Should you feel that you want to give it a go then I have a solution for you with two options?
Personally, I recommend the first option, mainly because it is free to try with no obligation to continue should you decide otherwise
What are the two options?
Option 1
Become a free starter member
Here when you join you get two SiteRubix websites to try them out and learn with along with two separate courses containing 10 lessons each.
The two websites are yours to use and even if you don't want to take the next option you can still learn and build a foundation that can earn you money depending on how much effort you want to make it work.
You will learn all about how to build your website, how to choose a niche and many more as you can see by the image below.
Level 1 Online Entrepreneur course given free to all starter members
Phase 1 Bootcamp course for free to all starter members
As you can see both 20 lessons from these two courses can give you heaps of training to get you started online and even earning revenue depending on your efforts.
There is plenty of information the co-founders are willing to give you.
As I said this is a free starter membership for 7 days and if you find success is not for you, then you simply log out and that's it.
No cost to you, no credit card details required only a gained knowledge and insight of creating your own website.
Should you find you are serious in wanting to reach and achieving those goals and the purpose you set earlier, then option 2 is for you.
Oh, when you take option 2 there are none of these upsells upon upsells some other places will charge you after you join.
Option 2
Become a premium member
Here you can join in various ways
• Become a free starter member and try it out for 7 days (I highly recommend this)
As I said earlier if this is not for you, then just log out no more.
• After your 7 day trial (or earlier if you wish) as a starter member if you find this is for you then you can upgrade to premium membership and as a bonus when you join I will ensure you get the first month for only $19 then each month after is $49 per month that is should you want to go monthly.
By going monthly works out to $558 per year, however, should you take the last option gives you a massive saving.
• The last option is to go yearly for $359 as a yearly member.
This is another way to make yourself a commitment that you are serious and seeking success and reaching those goals and plan you set in writing.
Do the maths, the monthly cost for the year add up to $558, which comprises of the $19 first month I will give you and the remainder 11 months at $49 each total $558.
Going yearly costs $359 per year.
Therefore, the difference with the yearly cost compared to monthly over a year is a saving of $199.
Would the $199 saving be better in your pocket instead?
This choice is up to you.
Premium members get a lot more than just 20 lessons along with free hosting site security and much more.
So now, you know the two vital questions and steps needed to ask before you start a website.
Should you wish to give these options a go then just Click Here To Your Future Success Online?
Further reading of benefit for you.
Have you thought about your goals and purpose in creating your website I would love to hear your goals and purpose?
Please comment below
To your success online.