Rewards Central Australia is an Australian company established in 1999. Since then, it has rewarded its Australian members with Millions in Cash and Prizes.
A great testimony to the long-standing relationship that has been developed with their members as well as the various shopping reward partners they are associated with.
Who is Rewards Central Australia for?
Rewards Central Australia is available for any resident of Australia and over the age of 14 along with a valid email account is able to join.
For Young Adults over 14 years, this can also be a great way to save money by accumulating the various rewards points available.
How does it work
When you join, as a member you are then able to earn rewards points in various ways from within the site itself.
There are many ways as you will see below on how you can earn either points or prizes even win cash.
Ways to earn
• Enter competitions and have a chance to win a share of $ 5,000 Cash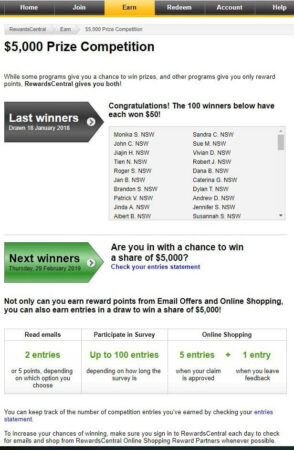 • Earn reward points when you shop online at Reward Central
• Register for Special Offers
• Receive email offers to receive more points
• Participate in surveys some can give you over 300 points for the one survey
• Fill in details for quick short surveys
• Get web clicks and once click you can earn 2 points a day just by clicking one site.
• Enter free guessing game by correctly guessing the winning number and you'll d win 2,000 points.
  Depending on your Exp (more on that later), and how you play the game, you could win up to 14,000 points.
  This game starts at 11 am every day.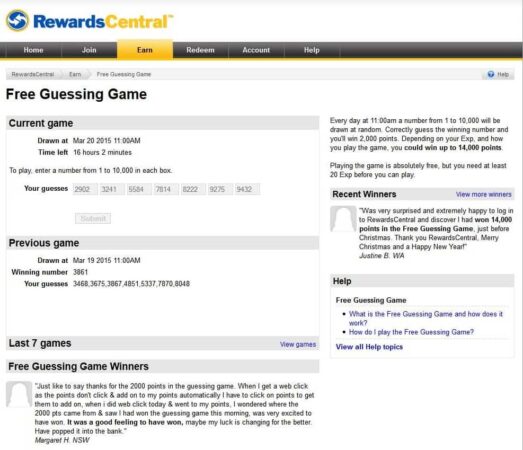 How to Become a Gold Member with Rewards Central
• Become a Gold Member to upgrade this can be done in three different ways.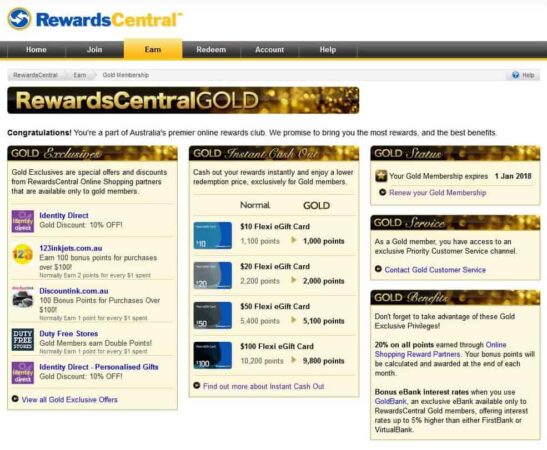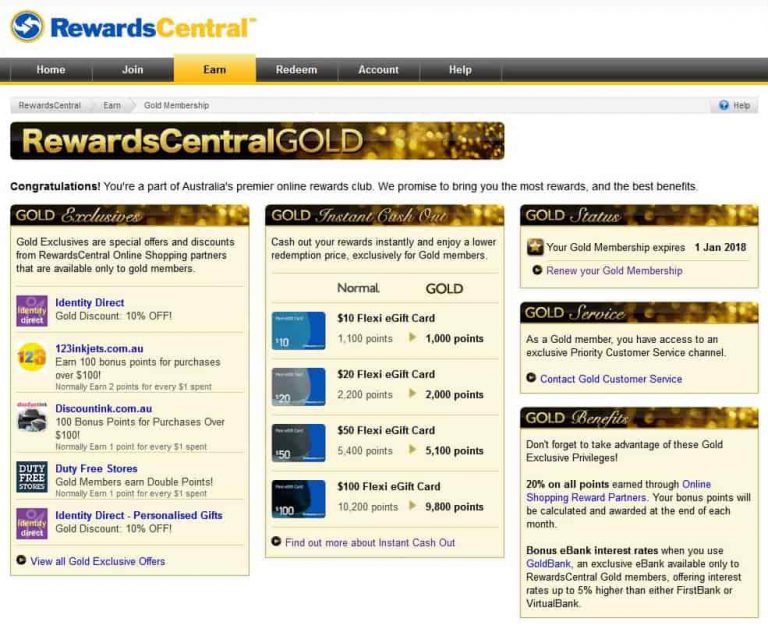 1) Pay via Credit Card,
2) Pay via B Pay or the best option, once enough points have been saved you can pay for your Gold membership using your points instead.
This requires just 495 points for 1 year or 1,500 points for a 4 years membership.
Mind you if you wish to pay by credit card or B-Pay the 4 years membership only costs $15.
Can you manage $15 for a 4-year membership?
If not then just save the required points and pay via points instead and you have not spent any of your only money.
That's how I did it back in 2007 when I joined.
• You can also refer a friend to join and when the account is verified you receive additional competition entries to that share of $10,000 cash prize.
• Join my alerts within and receive various alerts that can include extra chances for cash prizes, new products, bonus reward points, or entries you just never know which it can be.
• E–Bank This is awesome I use this regularly.
You can bank your points already collected and depending on the term chosen you will receive interest in the form of extra points on top of the original points you selected as the start.
There are 3 terms; From 1 to 3 months and also three different levels with varying interest rates.
I have added all three rates for you to see how being a Gold Member will benefit you.


• Gain Experience points along the way.
Here there are many simple tasks that will give you extra points as you progress along the way.
Such as one-offs and as ongoing I will let the image do the talking on this.
So that is the many ways to earn points that will let you earn cash down the track.
There are many more fantastic opportunities within Reward Central Australia but I have already given you many opportunities on how to earn cash here.
All that is required is to join and as I said it is free the best option for Gold Membership is to do what I did.
Collect the necessary points for say 1 year which will give you extra points and further discounts compared to an ordinary member.
But the next renewal you will surely have more than enough points to take the 4-year membership.
Enjoy being a member here there are also games like rock, paper, scissors you can earn points from as well plus more.
Are you already a Rewards Central Australia member let me know your experiences and how you have benefited from the program.
If you are not a member yet and fit the criteria you are most welcome and invited to join.
.
So what are you waiting for? Join Rewards Central Australia now by clicking the image below 

Be rewarded! Join RewardsCentral today!