What is Perpetual Income 365 About? Is it Legit, a Scam, or another Overhyped Done for You System with Fake Testimonies and More? 2022 Updated Review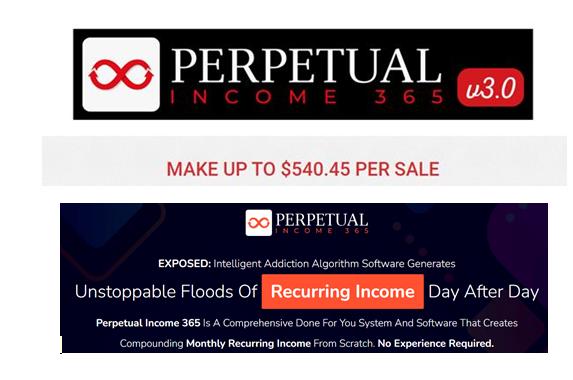 In one of their latest updates to Perpetual Income 365 Version 3.0 claims, you can make up to $540.45 per sale with no experience required.
All this is possible by manipulating the Secret Algorithm known as MCCA.
By manipulating this Secret Algorithm anyone from beginners to advanced affiliate marketers is able to make money every month with recurring commissions.
By taking this offer you pay only $9 for a 14-Day Trial and are able to earn money online from scratch according to the image above.
The majority of the work is done for you (94.8%) with little to do yourself.
You are asked to become the salesperson in promoting their product.
I've bought into their program to find out whether it is legit, a scam, or just full of hyped-up misleading information.
I am not really surprised with what they don't tell you at the start, including more on that secret loophole they claim will make you heaps of money online.
The methods used here and indeed in many other done-for-you systems out there operate in much the same way. 
Their promise of a quick- rich money-making scheme where you hardly need to lift a finger.
Some DFY Systems are technically legit while others are total scams and many have that MLM vibe about them where you sell the same product to your friends and family.
Perpetual Income 365 is slightly better however there are many areas that are questionable and misleading.
So in this updated 2022 Review, we will look at the many features of Perpetual Income 365 and work out if this is legit a scam, or just full of Hype and more.
There is more than meets the eye here with such claims.
But be prepared for the truth. Not all is what it seems to be.
Let's get stuck into this.
Points to be covered in This Perpetual Income 365 Review?
Perpetual Income 365 Overview- Key Points
Product: Perpetual Income 365 also known as PI365
Sales Method: Email Marketing (added costs here via Solo Ads)
Product Owner: Shawn Josiah
Product Price: $9 with a 14 Day Trial, then $47 per month+ 7 Upsells (over $700) plus additional costs. Credit Card Required!
Money-Back Guarantee: 60 days Refund From Clickbank.
Website Page: www.perpetual income 365  
https://www.perpetualincome365.online/vsl2/?hop=apache1v
Red Flags: Contains some fake testimonies, misleading information, and uses scarcity tactics.
Recommended?: To a Point Yes, but not for beginners.
Rating: 4/10
Perpetual Income 365 Alternative
There is a better alternative if you want to learn proper affiliate marketing where you can take a test drive for free with no credit card required.
What is Perpetual Income 365 About?
Perpetual Income 365 is a plug-and-play ClickBank digital software, in other words, a done-for-you online business.
The program started back in 2019 and is still available (which is good to know) as of writing this the software is version 3.0.
However, they have now updated to version 3.1 so there have been changes made with some minor modifications within the program.
Most of the changes are the dashboard categories being moved around to look different yet the content is the same.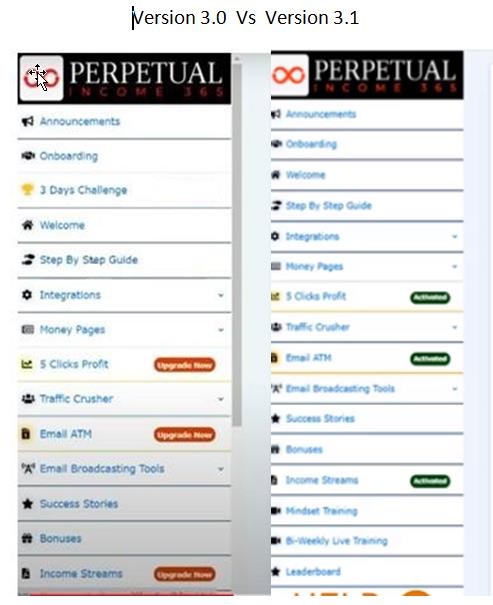 You are basically becoming a salesperson on their behalf in order to promote the same program you just paid for.
The amount of commission will be dependent on how many upsells you will purchase, along with how many people you attract to join the same program and how many upsells they take themselves.
Oh, by the way, those customers you attract to join will become your competitors as they will be doing the same as you promoting the same program with the same added upsells and often the same sales funnels to the next person.
Although PI365 isn't but does tread a fine line that of many MLM schemes.
What is a Done for You Online Business?
A "done for you" business system is just one form of online marketing with the aim to help you save time and effort by creating the majority of work for you.
You will have a sales funnel that is already created and ready for you to use with additional opt-in pages also created for you. 
This can vary from a simple page to a more complicated one.
They do that for you and let you know that all the heavy lifting is done for you.
This will save you much time and hassle so you don't need to worry about creating them yourself.
The purpose of the sales funnel is to drive further traffic to the sales page to enhance further opportunities to make that sale.
Think of these funnels and opt-in pages as a warm-up to the initial low-cost entry then the hope for the purchaser to take the upsell later.
In order to be successful with Perpetual Income 365, you will be using their methods only and paying for traffic via solo ads.
Solo ads are their method of choice and you will be paying to have a section of selected names from other people's email lists.
Depending on your budget, such email lists that you paid for are then sent to prospective clients with your affiliate code embedded via email.
Basically, you are buying traffic from an unknown source and relying on PI365's advice, is not the best way as you really don't know where this list came from or if they are real people or bots.
Beware of Bots
Bots are not real people but can make it look like you have added traffic.
Many scams and con artists use these tactics to make you think you are getting traffic.
Then when you realize you are not getting sales they hit you with the scarcity methods that in order to get more attraction to your promotion you will need to spend more on traffic to even up the odds to that sale.
Using such methods for paid traffic is not only risky but costly.
For beginners who have never done any form of affiliate marketing paid traffic is not the best way to start.
Spam Folder
Often such emails end up in the spam folder as many may have false details of who they really came from.
Those people on the email list are sent your promotional options which will first show the initial low-cost offer such as the $9 offer or even a free PDF related to something else.
Emails are sent to these at certain intervals some every 2-3 days some abuse it and send one every day.
Each program is different. PI365 sends out automatic emails for 31 days then you would need to pay for more to be sent out the following month in order to attract more potential customers.

That is why you need a monthly budget for this method to work which can get quite costly especially if you're a beginner.
No Guarantees
The more you spend on buying traffic the larger the opportunity to gain a sale though not a guarantee.
There is never a guarantee and anyone stating they will guarantee a sale is being deceptive to you.
One of the main reasons I don't feel this is for newbies is that it can become too costly with no guarantee on return of profit.
Is perpetual Income 365 Legit, a Scam, or a Misrepresentation?
Yes, Perpetual Income 365 is legit and not a scam, however, there are some methods in its promotion that I feel is a twisted misrepresentation of the truth.
They state this is the best way and the easiest way toward financial freedom for those interested in Affiliate marketing.
In fact, what they use is one method that can be done in affiliate marketing.
All they use is an age-old standard method known as Email Marketing.
Email marketing is just one way to promote products or services within the broad term of affiliate marketing and by far not the only method nor necessarily the cheapest.
Email marketing in general has two basic methods both of which can work when done properly and ethically.
Who is Shawn Josiah?
Shawn Josiah is an affiliate marketer and the one behind Perpetual Income 365.
Shawn Josiah has had success in many areas involving affiliate marketing mostly through digital marketing.
These are ClickBank, Warrior Plus, and Digistore24 all of which Perpetual Income 365 is available with.
He has won some sales awards with ClickBank promoting other products as an affiliate not necessarily with Perpetual Income 365.
In fact, he has won these sales awards with ClickBank for three years in a row as shown in the image below.
Shawn Josiah is not a scammer he is real and legit but as with the majority of done-for-you systems, there are elements that may not be the best in the way they are promoted.
According to the owner Shawn Josiah, Perpetual Income 365 is all about taking advantage of a Secret Algorithmic Loophole called MCCA that's going to help you to make money online.
What is This Secret Algorithm Called MCCA?
MCCA is the abbreviated term for Micro-Commitment Compounding Algorithm.
You may have seen this term used in some of the Perpetual Income 365 videos or ads.
They are stating this is an algorithm secret that many big companies such as Netflix, and Microsoft, among other large organizations, use.
By using this secret formula you are able to learn more money as a result.
You can check it out yourself with what they say by clicking the video below.
.
Did you manage to get through the video above?
However there is no secret algorithm, there is no loophole and there is no Renegade Netflix Data Scientist.
This is just a Hyped-Up Sales Page, there is no secret algorithm ordinary people are manipulating to make Perpetual Income every month as they state.
Many such DFY programs are manipulating innocent people instead, especially beginners who may not know anything different.
 MCCA is a common marketing method that many, both individuals and businesses use both online or offline by offering a free item, discount, or low-item product as an introduction.
Doing this it increases the chance for them to buy more from them later provided they are happy with the initial offer.
The $9 trial perpetual income 365 offers is a perfect example.
You are offered a low-cost intro then once you sign up there are upsells along the way.
It has nothing to do with any secret Netflix scientist that has uncovered ways to make money online quickly.
This is totally not needed and in my opinion, just makes the program seems more scam-like and harder to believe it will work.
It is just an unethical way to change the mindset of those who are in great need to make money.
False methods can easily deceive people into believing such secrets exist.
Who is Perpetual Income 365 for?
According to Perpetual Income 365, this is for marketers at all levels from newbies (beginners) to advance.
In reality, is it really aimed toward those new to marketing that has no real experience who hope to make money online quickly.
They talk about earning a full-time income through affiliate marketing using their own done for you plug n play system.
They do all the heavy lifting for you by creating Sales Funnel, money pages, and email swipes for you to use with the programs.
This can and will save you time especially if you have no experience with creating such forms.
It is pretty much a push-button way when you just need to pay certain costs and all else is done for you while you watch the money raking in.
The objective as stated by Shawn is to help you make $10,000 per month using their system.
Don't be fooled by the statements they give you.
There is more to do than what they offer and for you can be costly.
So far outside of the founder Shawn, since they started the Facebook Private member group I have yet to see anyone truly claim they are making that amount using a DFY plug-and-play system as perpetual income 365.
Let alone making a profit from what they have put into the program. 
It is easy to show sales made but it is a totally different story to prove how much you spent to make those sales.
If they do they are most likely the fake actors that will be mentioned shortly below otherwise I doubt it.
It doesn't mean you can't, but such methods normally fall by the wayside with such claims and are mostly overhyped statements making you believe you can do this so quickly.
What's covered inside the training?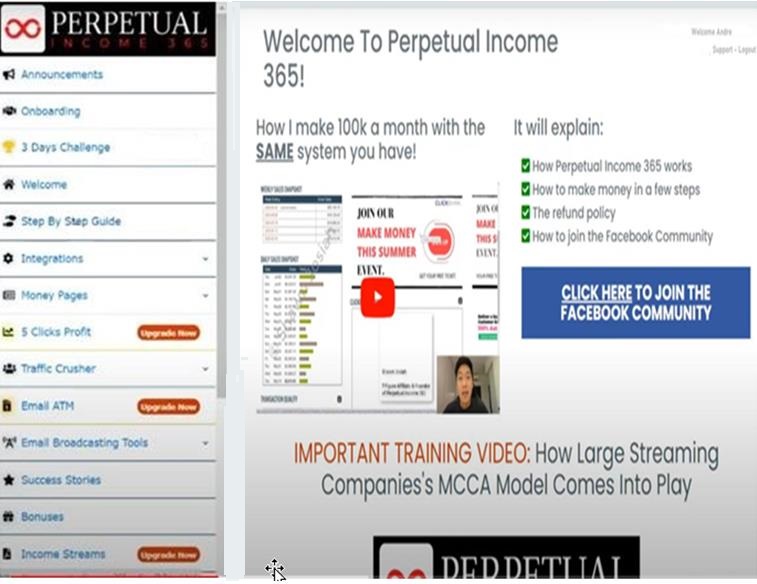 The Dashboard
Once you have taken the initial $9 offer you automatically have the opportunity to take advantage of some of the options you can see in the dashboard above.
Let's go over some of the main features inside the dashboard.
Three Day Challenge
The three Day Challenge is one that is asked of during your 14-day trial only.
Here you are told that Shawn will match your traffic as a 1 for 1 during the challenge.
What this means is when you pay for the traffic (more on this later) Shawn will do the same for you from his own email list.
The aim of this is so that you can get at least 2 sales and if so then your membership is Free for that month.
Should you reach this challenge within these 3 days only, you will be rewarded with a free upsell of your choosing.  That can be a great bonus.
Now the Three-day Challenge is a good incentive to take and the fact Shawn will give you the best opportunity from his personal list to help you gain those 2 sales is a great idea.
This is a good way to get you started straight away in the hope you receive the 2 sales at least during the 3 days in order to save paying for one of the upsells and most likely you would choose the most expensive one.
Please note:
The 3 – day challenge was shown in the dashboard for version3.0 since then there is an updated version 3.1 however it is not shown in the dashboard.
So whether this is still available is not certain which would be a shame if not available as this is a good incentive for beginners coming to this program.
Step By Step Guide
While the 3-Day Challenge is an added incentive for new starters the Step-by-Step Guide is the most important part which will lead from the beginning stages towards some of the added areas to boost more opportunities in sales.
There are 7 steps included within the Step by Step Guide plus an additional step using the traffic crusher.
They are simple and easy-to-do steps with not much involved.
Step 1,
Here you will start the setup process of connecting and integrating your ClickBank you will be able to connect your digistore24 account as well.
You receive your affiliate links along with setting up your method of payment such as PayPal in order to receive a commission on any sales you may make.
Step 2 
Step 2 will be where you connect your autoresponder account with the GetResponse account which is a requirement with PI365.
The next steps in 3, 4, and 5 are optional upsells.
However, should you want to be able to learn and earn more this according to Shawn Josiah will benefit you further but as stated they are optional.
Step 3(Optional)
Taking this upsell activates your Perpetual Asset Multiplier.
This allows you unlimited Money pages and may use any design you wish with what is given..
Step 4(Optional)
Taking this upsell allows you to activate the Email ATM. here you have added access to instant Broadcasts.
The Email ATM enables you to send high-converting email swipes to the leads that have been collected without you doing anything.
Step 5(Optional)
The final of the upsells is the 5 Clicks Profit and once activated can be used with your money pages to give added value for higher conversions apparently.
Such examples are those scarcity timers, the added bail-out options to entice you to come back, or face losing the opportunity where someone else may take it.
Here are a couple of such examples of this.
The Timer gives you a countdown of when the time is up the price will rise.
In fact, the price doesn't rise at all nor does the timer stop.
I did a test on this showing you the date and time I stopped listening to the video along with what happens when I let that timer run out.
Which it didn't run out instead, the timer continued with a negative countdown and the price did not rise.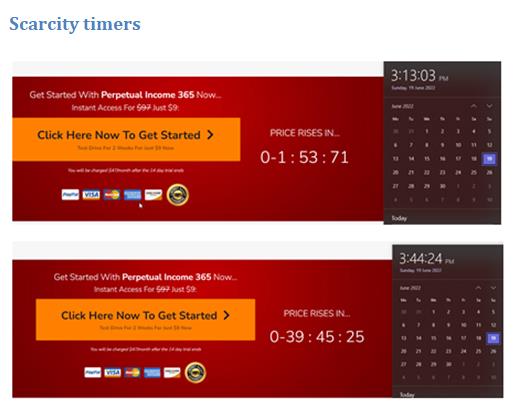 Should you move your mouse cursor outside of the video this will appear even though you may continue to hear what Shawn is saying.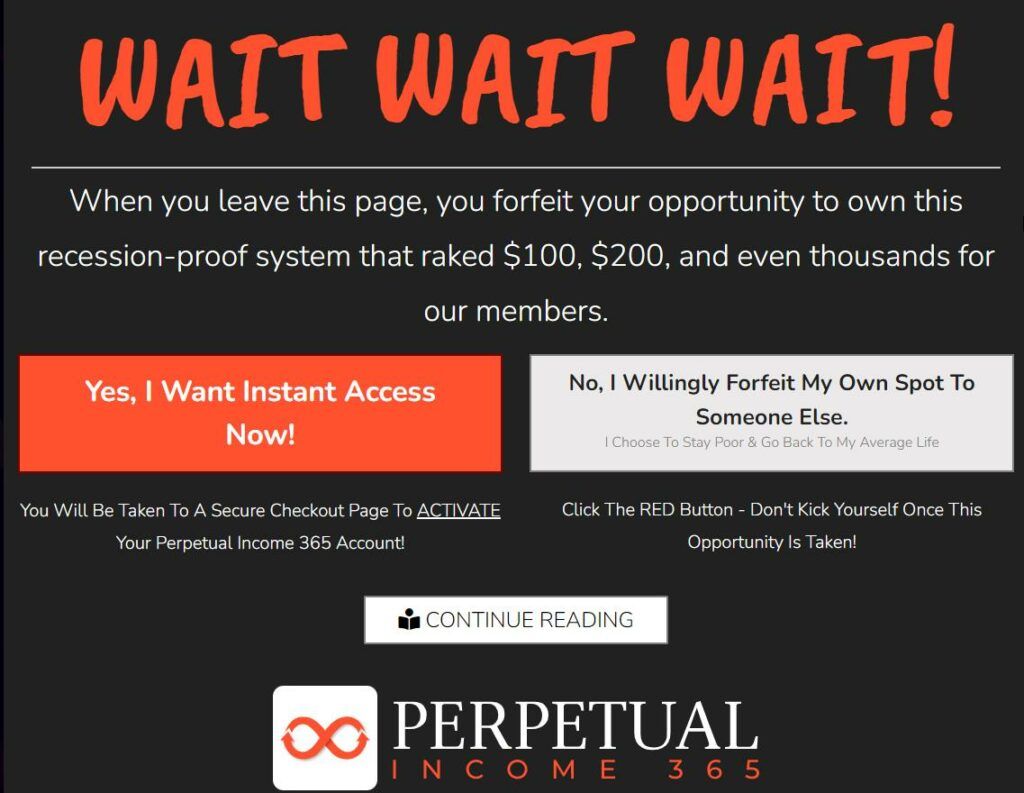 Another scarcity tactic is to make you feel you will lose the opportunity if you click out.
You will notice there is also the option to click continuing reading.
At the same time, this appears the video continues to play so you can hear what is said just not see it unless you click back in.
Should you choose to click out totally and go back in you will have the same option as you did before plus that timer will be reset to a 60-minute countdown.
You don't miss out; this is another form of scarcity method to play with your mind in not wanting or losing out on that opportunity.
Just standard methods you will see in many places both legit and otherwise.
Step 6
It is here you will start to create your Money Pages which as similar to the landing page you may see elsewhere outside of PI365.
This is where the costs start building up as here you will be paying for traffic using Solo Ads.
You will have some choices given and the one at the top will be Shawn's own list.
This is where he makes extra money off you for his own Perpetual Income 365.
He is also an affiliate for other places and if you choose not to use him will still make an extra affiliate commission for him.
So either way, Shawn benefits while you spend in the hope of making some sales.
To do well, expect to budget anywhere from $100 upwards per month.
The more you spend the higher the chances of getting clicks and then sales from your prospective customers who in turn should they take the same offer as you did will become a competitor with you.
So for beginners, this certainly becomes very costly to start.
Step 7
This step asks you to watch the mindset video which is aimed to boost your confidence and improve the way you think about making money online.
Traffic Crusher
The final step which is outside the step-by-step guide is using the Traffic Crusher which is just a fancy made-up name that represents UIMI using solo ads for your money pages
Remember you are only just a salesperson this is not real affiliate marketing.
What is the real cost of Perpetual Income 365
What they don't tell you at the start.
This is why you need a credit card.
As stated earlier, the initial cost is $9 then after the 14-day trial it goes up to $47 per month automatically, or if your take the option of the lifetime offer of $297.
However, it doesn't stop there is more to pay along the way.
Oh, wait! Didn't they tell you then in order to earn that $540.45 commission per sale you need to pay more along the way?
Here is a list of things you are not told when you first join in.
Additional upsells
Now in the video, Shawn states that these upsells are optional however, don't expect to earn much unless you take the upsells which can easily add up to over $700 on top of your monthly charge and more still to come.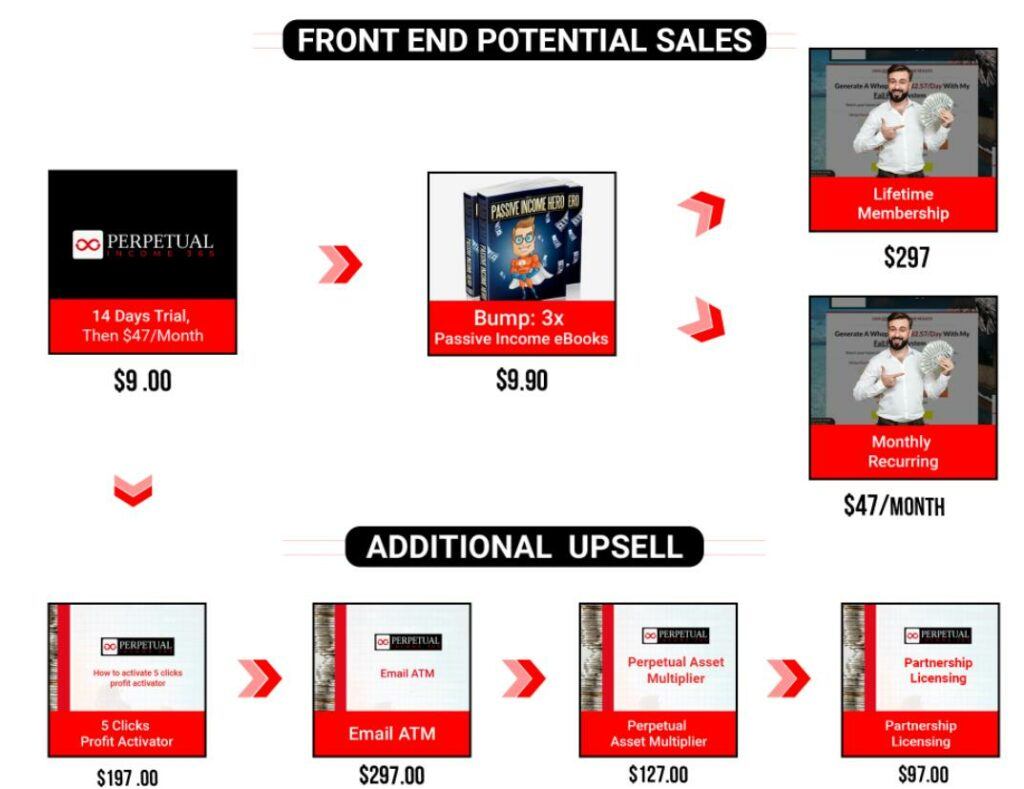 Can you see how you originally started with $9 then it becomes $47 per month followed by over $700 when taking the upsells?
On top of that you also will be investing every month for paid solo ads to market the email list you get from others.
You can easily at the start expect to spend over $200 a month to give some sort of decent sales.
The more you invest monthly for a paid email list from someone else the higher you're expected budget will be.
This is not something I would recommend for beginners unless you have a high amount of knowledge online or money to spend.
Can You Make Money With Perpetual Income 365?
Sure you can and many have made money using the strategies they give you but you need to spend money to make money and hopefully make a profit which many don't tell you their costs to get what they did.
Sometimes it becomes a case of the blind leading the blind.
This is the issue in making a profit.
Sales may give commissions but that doesn't necessarily mean you will make a profit from what you have already spent.
It is easy to hear testimonials from members saying they made some sales but no one has even stated how much they spent in the process and if they actually made a profit as a result.
This is why you can't just rely on some of these testimonials. In fact, this leads me to another issue I am not happy to hear about with Perpetual Income 365.
2 Main Perpetual Income 365 Red Flags
1) Fake Testimonials
One of the disturbing and disappointing parts found within Perpetual Income 365 is the testimonials you see.
It is not so much from real members which many can be hard to believe but the ones I am talking about are the fake testimonials from paid actors from Fiverr.
This is one of the things I have noticed with many DFY programs where they tend to use paid actors from Fiverr.
Fiverr is a marketplace for freelance services Source Wikipedia
Now these actors I have no gripe with that is their job and their living does this but having these added to the program promotion to make it seem like they are successful using PI365 is not right and deceiving.
Here are some examples that have been used in the past and present. Every now and then they take some out and replaced them with new actors.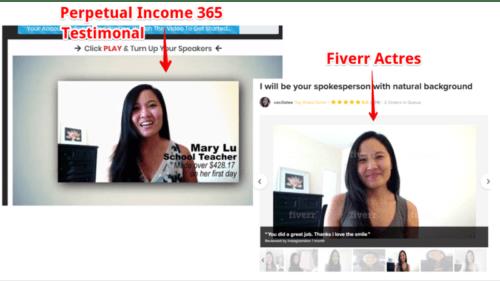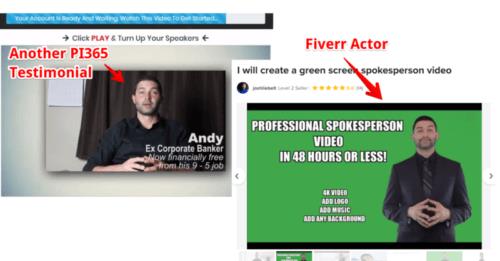 The top two actors have been replaced when PI365 updated their program and the latest one shown is of this actor below.
Her name is Laura and she is apparently posing as a Stay at Home Mom.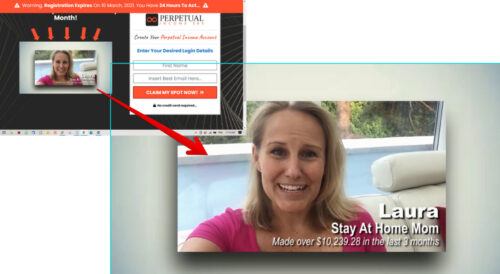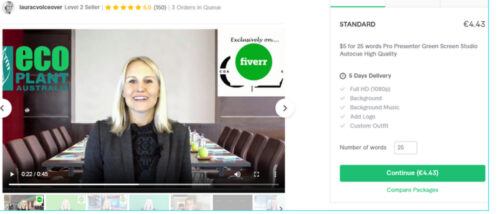 You can find her on Fiverr where she is known as "lauravoiceover"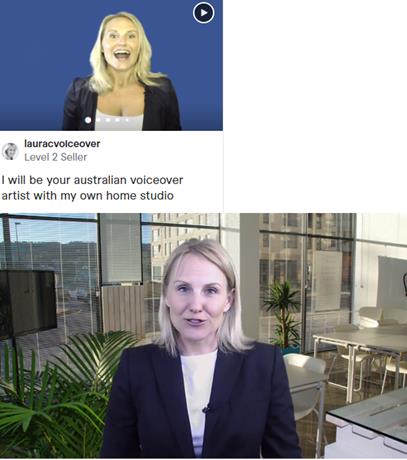 As I said I have nothing against such actors.
It is a shame that if such a program needs to provide fake testimonials to make their product look successful, it makes you wonder how real the other testimonials from so-called members are.
2) Price/Upsells
As we have seen already you are given a $9 product where you can make money online from scratch with no experience to hook you in.
Once you join you are given a 14-day trial then you start to watch Shawn's Videos showing many testimonials and giving more examples of how much money members are making then you are hit with upsells upon upsells.
As I said there are 7 but you are it with more along the way
Have a look at this silent one.
When I signed up for PI365 this is what I got two boxes to tick and get a different product not related to this program.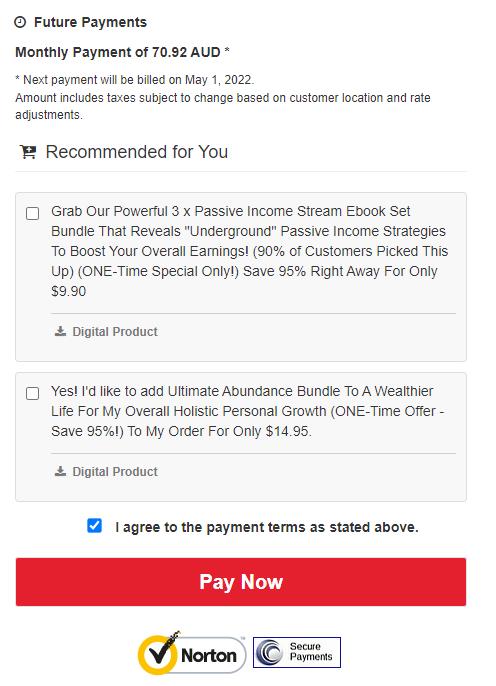 Plus this one just before I signed up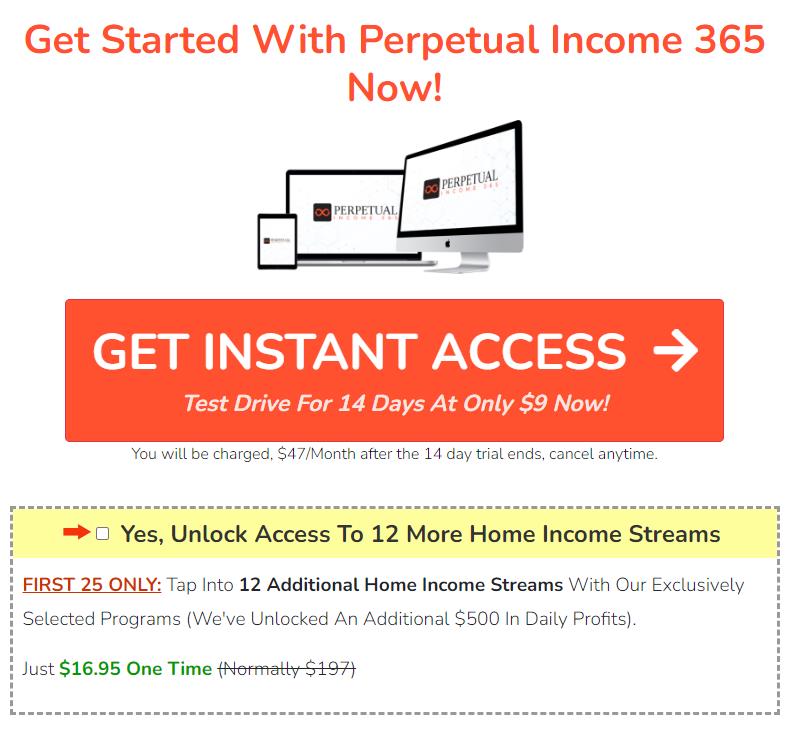 The issue in this one is there is no first 25 only it is always there.
Also, the price of the $16.95 one-time offer does not change and the normal price of $197 is there to make you feel you are getting a bargain.
It is not much money-wise but an upsell to a different product which later should you take it you will be bombarded with more opportunities and upsells for something else.
Recurring monthly commissions
If you want to learn more about how you can receive recurring monthly commissions and be guided by Shawn just click the image below.
Skip the video if you wish and claim your spot as a member.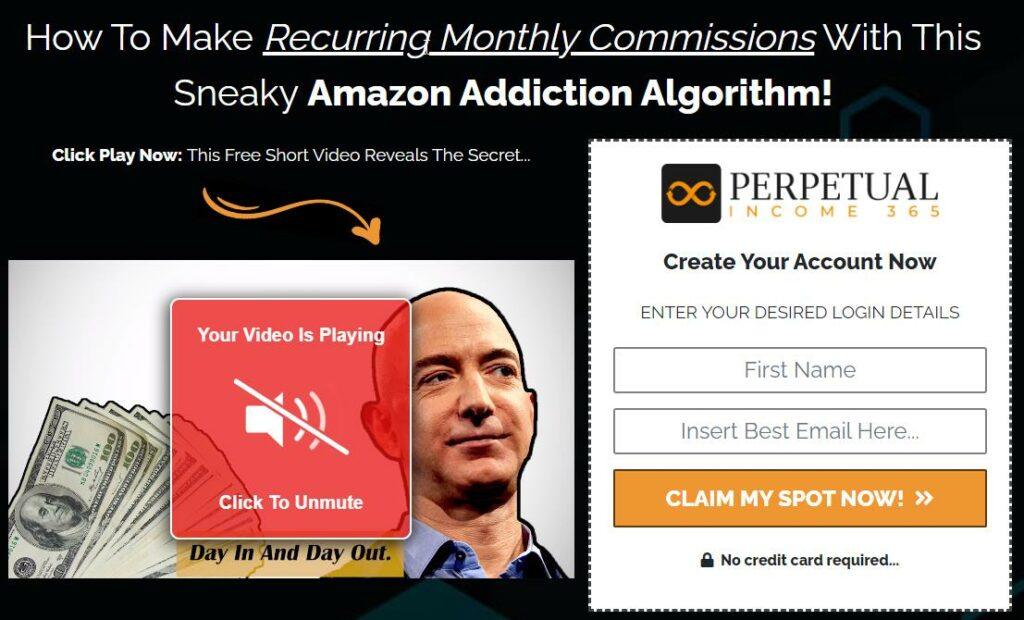 In Shawn's video should you get the chance to sign up he will show you some member results earning money and quickly scrolls down to more.
There are many examples along with Shawn's own personal success you can see once you join.
Remember it is only $9 and you can test it out for 14 days if you don't like it you can get your refund from ClickBank just make sure you have your receipt information saved as you will need that should you claim a refund.
At least that way you can test drive during the trial during the first 14 days give it a go and see for yourself.
A Better Perpetual Income 365 Alternative
As I mention earlier Perpetual Income 365 is totally focused on Email Marketing and there is nothing wrong with that.
Email marketing is legit when done properly, however, here you do not own a website, you cannot promote other niches other than that of Perpetual income 365, and should you upgrade you will be given options to promote some ClickBank products which may not always be great to do.
There are some decent products on ClickBank but also many scam-type ones as well.
These are the type that many DFY programs tend to give you as many of them work together but don't tell you.
PI365 does not teach you the proper ways with Affiliate Marketing they will only focus on email marketing and go for paid email lists using Solo Ads which can get expensive, especially for a beginner.
However, if you wish to learn more on how to create your own business online, and help people visiting your website rather than selling to them this is the best way to go.
Affiliate marketing is not a get-rich scheme and takes time and effort however with your own website you will be building a long-term investment for life.
The significant part is when you create your own website this can be based upon your own passion and you don't need to be a cheesy salesperson as you would here.
If you truly want to learn to create your own online business with a passion that you love then I suggest checking my No1 Recommended Program.
You can even start for Free with no Credit card and see if having your own online business is for you.
The first 10 Lessons are free if so you can read more here.
Just a 2nd option to give you
Final Thoughts On Perpetual Income 365
5 issues with Perpetual Income 365 that bother me are:
The misleading statements such as the MCCA secret formula which doesn't exist but is just a ploy to play mind games with you thinking you can quickly become rich with little to do.
The fake testimonies were given by paid actors which are really not needed. As I said it does make you think how real the other results are shown by so-called members as many such results can easily be faked and or manipulated to show otherwise
Perpetual Income 365 although legit it doesn't really offer much (hardly anything at all in showing you how to create your own business the reason for this is this is not your business it is theirs. Should they should down you lose all hope along with any commission or possibly sales along the way.
The constant upsells along with what they don't tell you at the start. The more upsells you take can result in more sales and commission but only if your customer takes up the upsells themselves.
The scarcity methods are used to make you think time is running out and to save a price rise you need to take the offer straight away. That is totally false and misleading and to be honest, a dishonest way to entice people especially beginners who have never done anything like this before and want to earn money online.
Your success online will be based on how much you put in financially with your advertising campaigns using email marketing.
When you stop your budget so will your emails being sent out. You have no control apart from spending more.
Have you had any experiences regarding Perpetual Income 365 let me know in the comment section below?
I will be more than happy to hear your thought and views on such DFY Plug and Play Systems.