Last Updated on July 23, 2022 by Andre
What is The 12 Minute Affiliate about? This done for you system claims to make Affiliate Marketing Easy. Earn while you sleep. Really? Even for beginners?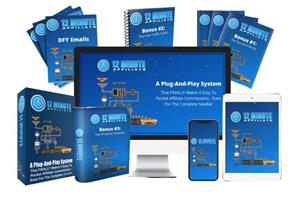 This post may contain affiliate links; should you click a link and purchase a product or service, I may receive a commission at no cost to you.
Please read my full disclosure for more details.
As you can see from the Table of Contents above, there are many areas to cover.
So let's get stuck into The 12 Minute Affiliate Review and see if this is for you or not.
Further below, I will let you know my findings and other options that may be better for you to be successful online.
What is the 12 Minute Affiliate About?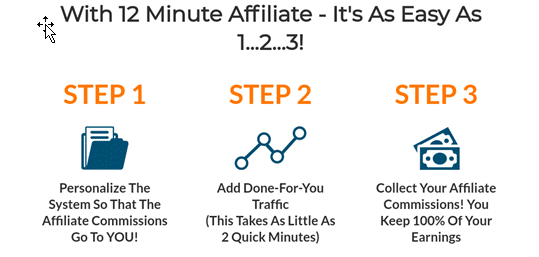 The 12 Minute Affiliate is basically a Plug and Play System or done for you package.
The idea is to have everything done for you that will help you earn daily within the Affiliate Marketing world without a website.
According to Devon, it is as easy as 1, 2, 3 with his Autopilot system.
When you join, the system setup is designed to be as easy as possible, with hardly anything to do on your side apart from the click of a button.
According to their promos, you can set this up in as little as 12 short minutes.
Not sure how long a short minute is but last time I checked, it still took 60 seconds per minute, LOL.
Apparently, this product is perfect for absolute beginners (Newbies) or for those with some Marketing experience who haven't made the money they wished for in the past.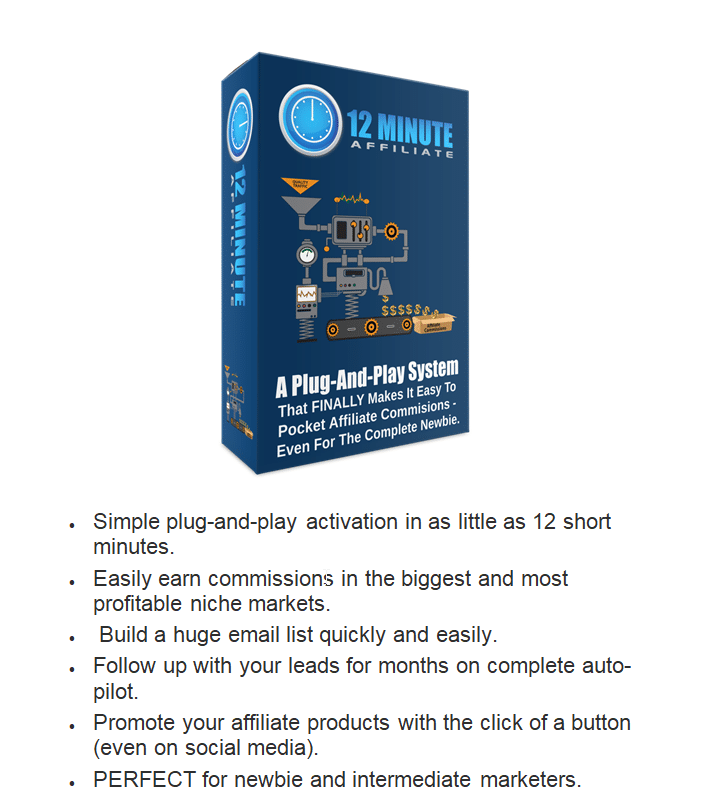 It is that simple, according to Devon Brown.
Who is Devon Brown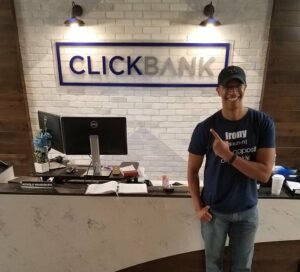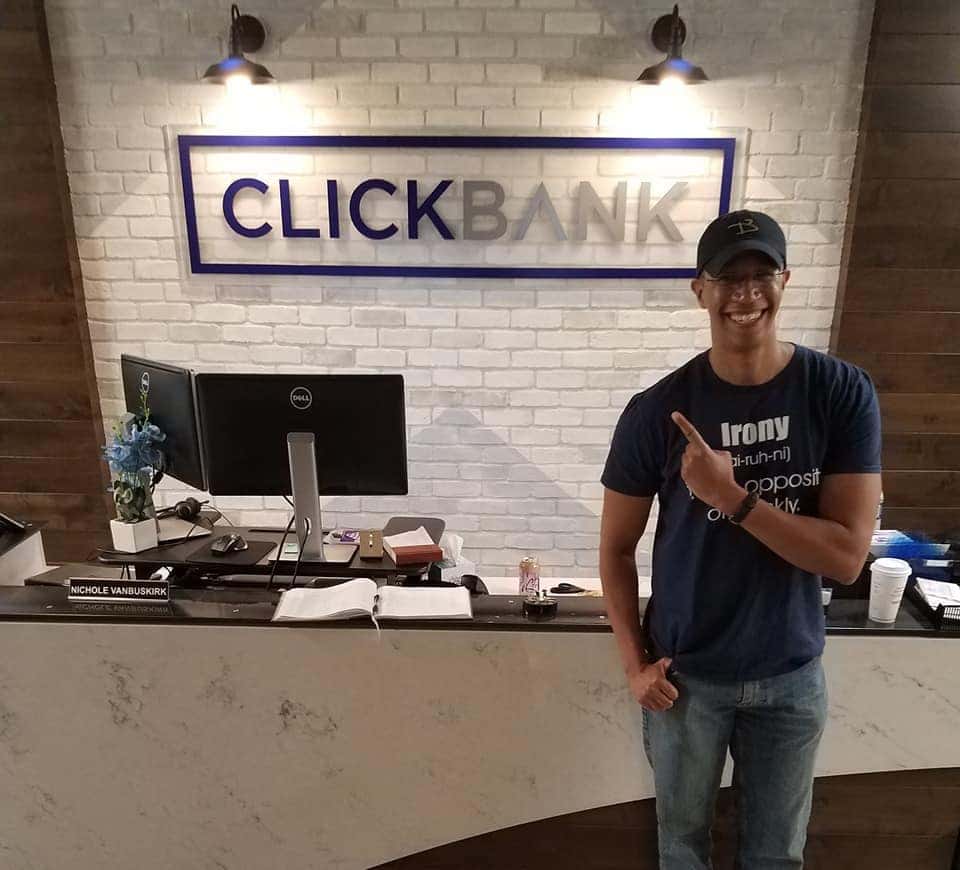 Devon Brown has done quite a few things in life. He is known as an Entrepreneur, Speaker, Emcee for some World Events sharing the stage with Tony Robbins, Les Brown, and other well-known Entrepreneurs.
Devon is a huge supporter of ClickBank, as you can see from the image above, and the products or Niches within the 12 Minute Affiliate are all Clickbank Products.
Devon is a Co-Creator for the 12 Minute Affiliate System and David Sloan, but Devon seems to be the main person advertising this.
Previous Attempts

Previously in around 2017, he also created another done-for-you system in the past called WebCopyCat.
That is not available anymore as these done for you systems typically last a few years, get taken off the shelf, then you find they create a similar program for another few years before they are gone, and the process starts again.
However, WebCopyCat is basically the same as the 12 Minute Affiliate, with some changes in pricing and what is included.
Yet, the same techniques of Email Marketing and using Autoresponders to host your marketing Campaigns are pretty much identical.
In other words, the same style of program, just with a different name and extra costs to boot.
He is a real person and has, according to him, a six-figure earner.
Devon is full of energy, a quick talker, and at times overhyped with what he states in his videos both on his website and on YouTube.
Then again, that is his technique, and if that works for him, then kudos to Devon.
How legit his programs are, well, we will see below, and you can be the best judge on that and see if this is for you or not.
Membership Levels, Costs, and Upsells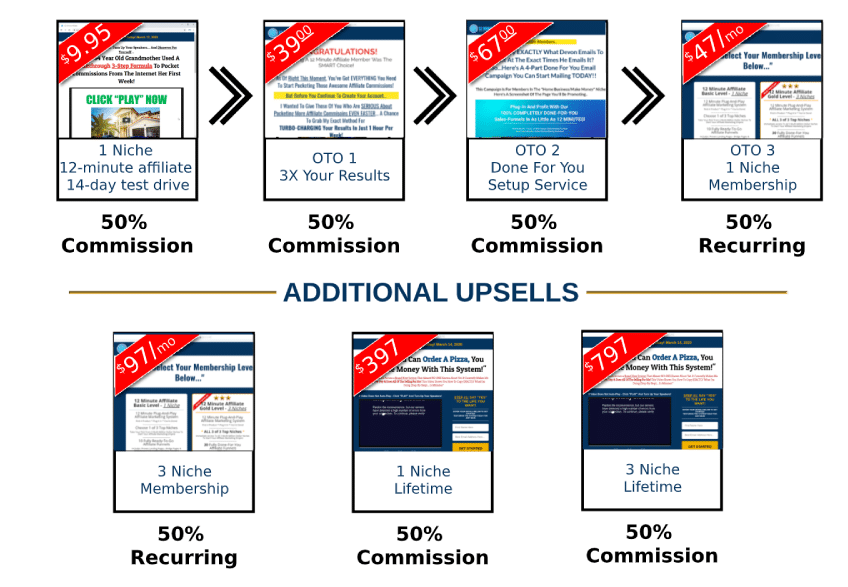 The 12 Minute Affiliate System offers two levels of membership, both of which come with upsells.
Below are all the pricing structures. 
Each has 50% commissions given on each product.
In effect, this can give you seven different ways to earn commissions when someone takes all the offers.
The two One Time Offers (OTO) is highly recommended by 12 Minute Affiliate to give you the best and maximum results within the membership choices you can make.
Basic Level – 1 Niche
The first step is to take the 14-Day Test Drive of $9.95.
Within the Basic Level, you are given a choice by 12- Minute Affiliates of their three chosen niches you can promote.
This allows you to see if this is something you would like to do and earn the way they offer you.
If not, you can ask for a refund within the 14 days trial for a full refund.
If you are happy to proceed with what is on offer, then go ahead and select your options.
Gold Level – 3 Niches
Here we have the top-level where you are given all that is available to you with 3 Niches in the areas they have for you.
The three niches available are Home Business, Weight Loss, and Personal Development, shown below under My Niche Funnels.

Of course, with the Basic Membership, you can select only one of the three; however, with the Gold Membership, you get all three that can bring in additional sales should you choose.
So with the Gold membership, you can see how your commissions can increase significantly should you take the lifetime membership of only $797.
The commissions can certainly bring a nice boost to your bank account as you can (should you choose) cover three separate niches rather than the one in the basic membership.
That is a choice only you can make.
Important note to consider regarding cancelation:
This can apply to many other areas, not just online.
Anytime you feel that this or indeed any other programs or agreement you make has a refund period, make sure you cancel before the due date of expiry.
This includes your 14-Day Trial Period.
If you do not cancel within the 14 day trial period, you will be automatically charged the following fee, which will be $47 per month.
You will find this standard procedure for anything when you are deducted automatically for any program you join.
If you need to cancel, do so before the due date and not on the date.
The majority of systems are automatic.
If you cancel too late or even on the last day, by the time the system receives your cancellation, you may have already been charged the following fee.
In this case, the monthly payment.
This is just standard policy for most organizations as the majority of payments charged are done automatically.
It is best to cancel at least two days prior and make sure you receive confirmation it has been done for your own record and peace of mind.
I added this part because I have seen many people complain they have been charged even though they may have canceled.
The majority of the reason is that many people either forget the renewal day or feel that they can take it to the last day then wonder why they have been charged.
There are times when the Terms and Conditions (T&C) may state there are no refunds, so that is another reason to read the T&C before entering into any payment terms or contract.
You Decide
So if you feel this is for you and your future, it is just a quick step in clicking on the image below and choosing your membership level, and away you go and start earning in your sleep as per what 12 Minute Affiliate tell you.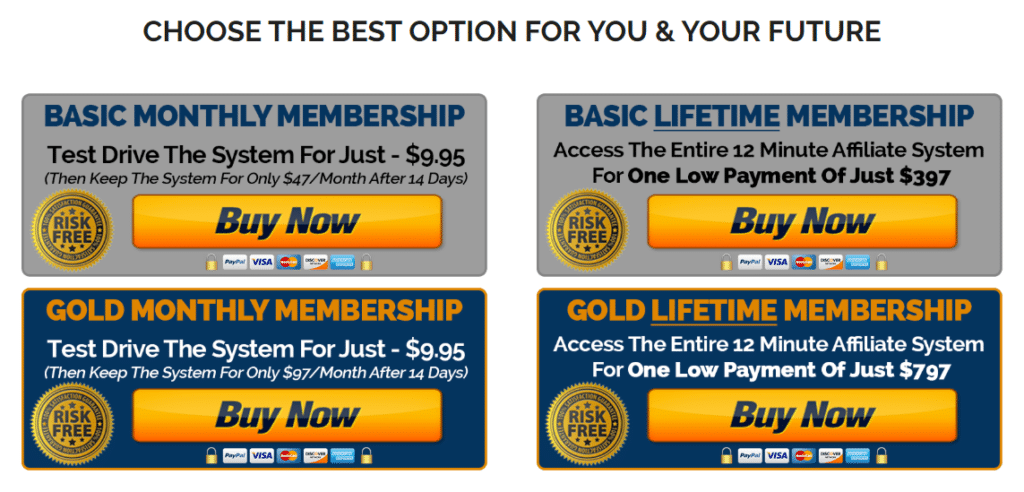 If so, then it will be $47 per month after that, along with the added options (upsells) to give you the maximum benefit with the 12-minute Affiliate system.
This will help to gain the highest possible commission, which they state would be up to $456.48 per Sale.
This figure is based on a person taking all the above options, but instead of monthly, it would be yearly.
I will provide a chart below showing you the Cost and also your commissions.
Note your commission is not your profit as you need to consider the cost as well.
12 Minute Affiliate Pros and Cons
Pros:
Devon Brown is real and not fake.

Support can be good during their M-F Operating Hours (that is good)

This is legit and not a scam.

The product is via Click Bank, and they have a guarantee cancellation policy.

Claims this is intended for beginners and intermediate marketers.

Done – for – you system in 3 simple steps according to Devon Brown

60-day money-back guarantee.

Facebook Group Support (private membership)

Instructions are simple, plus you can get private support (at a cost)

If paying Monthly, you can upgrade anytime.

Once set up not much to do; wait and earn while you sleep.

50% Commission which seems great

Extra 1 on 1 Coaching available (optional at an extra cost). Refer to the cons on this.
Cons:
Need to purchase the product before selling.

After your trial period, there are upsells and more upsells.

Not really for beginners unless you pay extra to have it done for you completely

There is no leaning into real affiliate marketing.

This is not your business, just a short-term quick money way.

Should the program cease, all your funnels, email lists (unless you already have your own) are gone along with your traffic.

There are no refunds on traffic; this is separate from the program refund policy.

You need to join Aweber and pay the monthly cost.

To stay viable, you will need to pay for traffic constantly. This will become very expensive (therefore not recommended for beginners)

No control of autoresponder.

You are not learning anything for yourself as it is a plug-and-play, so no real knowledge is gained with affiliate marketing.

Solo Ad Traffic is not the best most times.

With Traffic, you have no control of who or where they come from. They can be old, outdated lists, and even Bot traffic.

You are not told where there come from as 12 Minute Affiliate has total control, not you.

Affiliate links for MMO (Make Money Online Niche) are frowned upon by most Social Media sites unless appropriately done via a website.

The commission is not as high as it may seem, depending on the niche and your Cost to start. (Refer to chart supplied)

Should you wish the 1 on 1 Coaching, they are 3x 1 Hour coaching Sessions are an extra cost of $297 on top of what you have already paid. This is not mentioned in the initial costing of the two membership levels.
Can you make money with 12 Minute Affiliate?
The 12 Minute Affiliate is not a scam or fake, and yes, you can make money using the 12 Minute Affiliate System.
It is one of the most popular types of "Done for You System" found via ClickBank, and many have earned some money online using this.
Are you going to be a millionaire with this?
That would not be very likely.
The Cost of paying for traffic certainly can be very expensive as this is a constant and essential feature of your success online with this program.
You can check out the testimonials they provide within their website should you sign up or further look into it.
Biggest challenge – Traffic
Traffic is the life-blood of your online business.
Without traffic, there is no sale as people need to find you to read what you have to offer.
This is why building an email list can be essential, but along with the email list, the various sales funnels describing the product are also vital.
This is where the real added expenses come into play.
Again, it is not included with the above image of what you earn per commission.
These are the added hidden costs affecting your commission and what profit you may have.
Simply the more traffic you pay for, the better chance you have of making a sale.
It is not rocket science but a simple fact regardless if you have a brick-and-mortar business or an online business.
No Traffic = No Sales.
Here are the added costs you need for this system to work.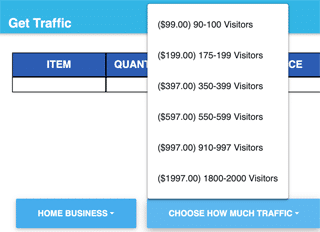 Please know that the number of visitors you are paying for does not mean you will get the same amount of sales.
So if you are paying $99 for, say, 100 visitors, you may only get 10 people interested, and from that 10, one, two sales on a good day may become your result.
Autoresponder
Alongside getting traffic, you need an excellent Autoresponder to send the email traffic to.
One can claim no definite result as there are many variables regarding traffic, such as where you get your traffic from.
The 12 Minute Affiliate uses Solo Ads which can, at most, result in low-quality traffic.
However, having the correct Autoresponders is another factor; Aweber is a good Autoresponder, which is positive.
The cost for Aweber Pro usually is $19.99 per month for your first 500 subscribers.
However, there are other Autoresponders around; within the 12 Minute Affiliate, the only choice is Aweber.
Refer to the chart below for additional costing depending on the number of subscribers you have.
AWeber Costing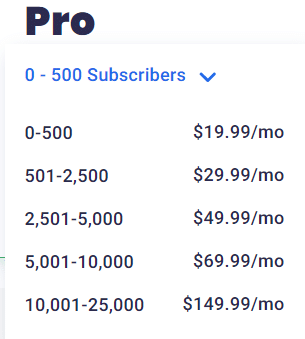 Top of it, you are not guaranteed the traffic sources; they may mix real human and bots traffic and even try to revive old dead lists.
No one knows this source except for 12 Minute Affiliate if that.
So be wary of the costs involved with traffic as they are not always the best source when it comes to paying for it.
You can quickly run a fortune in costs with no guarantee of making sales or very little at that.
Check the Maths
The image given below is from "The 12 Minute Affiliate," showing you how to get to the $456.48 commission per sale amount.
When you look at the figures they show in the image; it seems incredible to have $456.48 Per Sale or 50% commission sent to you.
However, this is not entirely accurate as there is also the Cost of traffic you are paying, and depending on how much traffic you want will cost more.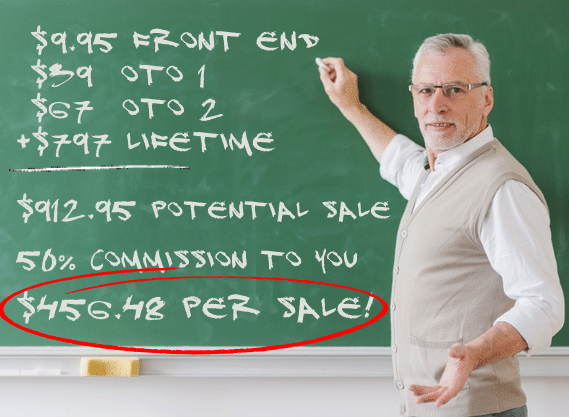 According to this image is sounds and looks great with what you can earn. However!!!
Additional Cost that also needs to be included.
Here is a more accurate breakdown of what you will pay for the whole system, along with your earnings.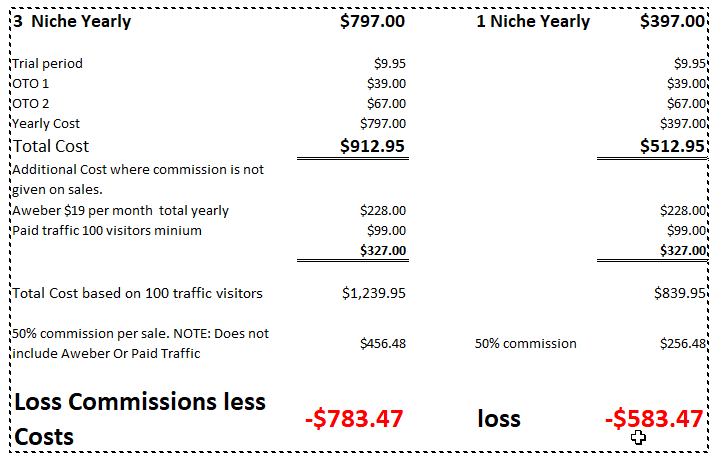 As you can see, you are not really earning $456.48 per Sale when you add all the additional cost, which is not shown in their earning image further above.
To make any profit based on the first image by paying $99 for traffic. You would need to get straight away 3 Sales of $456.48.
As you pay for more traffic, which is what you are required to do to get more Sales, you add the Cost of traffic you choose once more and so on.
Is this method worth your money? You decide.
The trouble is that people don't see the total cost to them as they only see the immediate result, which is a commission of $456.48, then wonder why their account balance is not as high as they would expect.
You need to take this into account.
Plus, this is based only on 100 visitors, which is not enough to get the sales you need.
If you add the last option of 1800-2000 visitors, which would be more of an actual number of visitors, the loss is even more significant.
If this was the case, instead of $99, it was $1997 for what they ask the loss.
So here is the second image showing your loss using their Cost for 2000 visitors.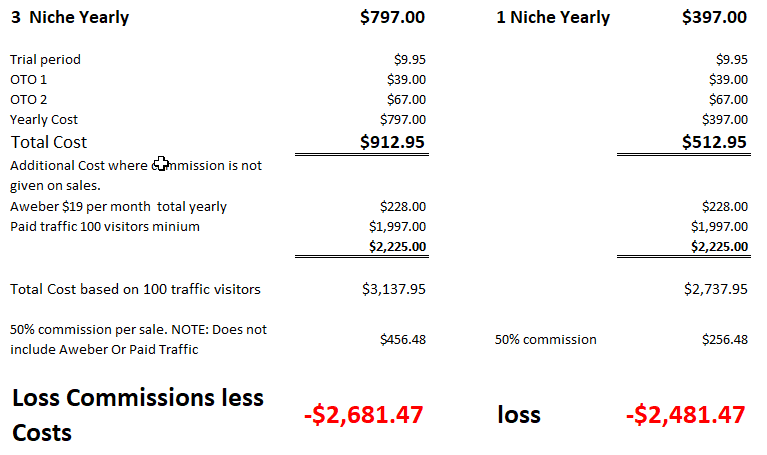 Remember to keep getting sales; you need to keep paying for visitors regularly, which is why I state at the bottom this can be very costly and really is not for beginners unless you have money to burn.
Then again, if you have money to burn, you don't need to make money in this way.
There is a better way which I will explain later.
Here you would need 6 sales from the start to recoup your total Cost based on image two and paying $1997 for traffic according to their costs for 2,000 visitors.
Also note:
The autoresponder is based on 500 subscribers in the two images above, which is OK to start with.
As your subscriber grows and passes the 500 mark, which is the way to go, you will need to change the Cost to at least the next level.
You should also include this cost factor later on.
But for a beginner, 500 subscribers will be enough at the start.
Remember, there are no guarantees you will get interested readers, let alone sales, but that is normal with paid traffic and even organic traffic.
The difference between paid traffic and organic traffic is that organic traffic comes from real people who have expressed an interest in what you have to offer them for their benefit.
Paid traffic gives them the sales pitch and is not the natural way to go with Affiliate Marketing.
You are not the salesperson but someone who is there to help your readers decide what is best for them, not what you feel is best for you or your pocket.
Is this for you?
Well, that can depend on who you are.
If you are a beginner with no knowledge or prior experience or knowledge of building an email list and gaining traffic, it can benefit you with their done-for-you system.
However, this is not the proper form of affiliate marketing they would lead you to believe.
Here you are not building your own business in affiliate marketing.
Yes, I know they mention affiliate marketing, but that is only partly true with what they state.
Yes, you are promoting a product with the selected niche or niches depending on your membership level, but the money you earn will only last while this program stays in business.
Devon Brown had an almost exact previous version called WebCopyCat that lasted only a few years before this added done for you system came into being, so his attempts have been made before, and it is now no longer available.
It makes you wonder why.
Once the program is done and stops, so will all your affiliate commissions, as there is no company to pay you for.
This is not a personal business you have or own, just a temporary way to try to make some money in the shortest time.
It is a quick rich way of making money but not necessarily the best or perhaps sincere way.
The products are all from ClickBank, which offers thousands of products.
As they have thousands to promote, some can be rubbish and may not last even a year, while others can last a long time, known as evergreen products.
They are the best to choose from.
Some are great, and you can earn thousands with some high ticket products, but they are also more challenging due to them being a very tight niche and those who can afford such high costs.
The 12 Minute is not a high ticket more middle ticket range, which can be good but only if you are prepared to pay the high costs for traffic to which you don't know where they came from.
ClickBank is an excellent opportunity for many affiliate marketers, which you can join for free.
You as an affiliate can promote this system even outside of 12 Minute Affiliate and without the added cost, especially if you have your own autoresponder and email list.
So as I said for a beginner, if you are prepared to spend lots of money on traffic and get it all set up for you, then that is your choice to take and make a sale, but don't forget to consider the costs.
But don't say I didn't warn you so.
For the intermediate marketer, if you have your own autoresponder and funnels, then you can save some costs and use this as one of the products you can promote via ClickBank as their affiliate, thus saving you money.
Done for you Systems
I am not a fan of these so-called Done for you Systems that lead you to believe you have nothing to do apart from the setup and earn money while you sleep.
In other words, this is another version of a push-button technique that so many scammers and fake gurus have given.
Not saying this is one, but there is a delicate and thin line with this.
Earn while you sleep
The word Earn while you sleep is often overused and abused in the affiliate marketing world, primarily by scammers and fake would-gurus.
Proper affiliate marketing requires work and effort, along with trust from your readers.
You are not here to sell as if the product is good; it will sell itself.
You are here to help your readers with the truth for what they need and offer them an option so they can choose for themselves.
Affiliate marketing can be an excellent way to earn money online by promoting other people's products. When someone clicks the affiliate link you provide, you will earn a commission from the sale.
This will only work if done correctly, and you learn the correct way to succeed online.
Earning short-term money is not a business you would want to have or be able to sustain long-term.
This is what The 12-minute Affiliate is short-term.
Is there a better option to make money online?
If you genuinely want to create your own online business, one where it is yours to keep and build a long-term business for you and your family and have complete control, then you can check out my No 1 Recommendation.
Here you can start for free and get proper training from a company in the online business for over 15 years and still growing stronger.
Should you feel True Affiliate Marketing is for you, you can upgrade to the Premium membership with more training, support and join a community of over 2.4 million members.


Wishing you well in all you do and trust you will make the right informed decision for yourself
If you have any questions or comments to add, please feel free to add them below.