Jim Rohn Quotes Motivation is what gets you started. Habit is what keeps you going. You cannot change your destination overnight. You can change your direction.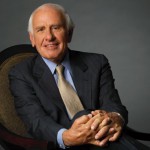 Success is doing ordinary things extraordinarily well. It won't happen overnight, but it will happen if that is what you want.
That is exactly what Jim Rohn wanted, who went from doing ordinary things as a Farm Boy to extraordinarily well as one of the world's greatest Motivators.
That's right, Jim started as an ordinary everyday Farm Boy and went to greater heights in life.
You know What?
So can you, because you are worth it.

Early Days

Now, although Jim did go to college, it was only short-lived. Jim Rohn only stayed for less than 2 years.
He felt he could better deal with work in real life than just sitting and hiding his head behind a book.
In his early twenties, he started working as a clerk, got married, and like many others, was behind on the bills and down on their luck.
Jim wanted more out of his life but was not sure how to go about it.
It wasn't later that a friend of his mentioned that he worked for someone who was not only rich but a sagacious person.
This man was presenting his philosophy on life and spoke in a way others could easily relate to.
Jim Rohn sat down and listened to this man as he spoke. Jim couldn't believe what he was hearing.
He found a new light in the world he lived in that he didn't even know existed.
It was a world of opportunity, filled with secrets of wealth, prosperity, and happiness.
As he listened to this speaker, he realized that this is the same world he exists in.
It enables you to be anything you wanted to be true, and you could have anything you wanted to have!
As he was listening, an idea flashed before his eyes.
He knew he had to be associated with this person if he could make something of himself and continue to learn more about these secrets of wealth and happiness.
After the speech, he went to this man and introduced himself.
That night his life changed for the better.
Not only was he inspired, but he also landed a job working for the same man he had just gone to see.
His name was John Earl Shoaff. He was known as "The Millionaire Maker"(More on John Earl Shoaff later).
So much so that John Shoaff became his personal mentor.
Jim went from being a sales rep for My Shoaff's companies to becoming vice president of the organization.
As a result, over the next 6 years, Jim began making a fortune.
In the early 1960s, he began speaking at a local Rotary Club when asked to share his success story.
This led to more public speaking invitations.
Later in 1963, his talents as a public speaker enabled Jim to travel around the country, addressing many seminars, and he started to earn a nice income from this alone.
A great Motivator and Public Speaker
Over 40 years of personal service for you
Jim Rohn continued public speaking for over 40 years and was in great demand; this was his gift to you and many others worldwide.
Jim Rohn became such an inspiration to many new speakers who are now in their own right great motivators, helping others as Jim helped them.
Some of these greats I have included in various pages on this site.
Powerful names such as:
Tony Robbins (Unleash the Power Within).

Jack Canfield (Chicken Soup book series).

Jim Rohn also mentored Mark Hughes (the founder of Herbalife International) among many others.
 Testimonial
 "I truly believe Jim Rohn is an extraordinary human being whose philosophy can enhance the quality of life for anyone who exposes themselves to it.
He certainly had a positive impact on me at a time in my life when I was first forming the philosophies that guide me today."
Tony Robbins
The Award for Excellence
In 1985, Jim received The Award for Excellence in speaking from the National Speakers Association.
He became the standard to reach for anyone wishing to become great at speaking in many forms.
Jim Rohn spoke about many basic foundations that affect many people, be it personal or business.
Creator of hundreds of products, ranging from books, Audio, DVDs, Workbooks, Sales Training, and Team Building sessions, and much more.
Should you wish to check out what there is to offer, you can check out "The Ultimate Jim Rohn Libray".
You will also find many other greats who will help you understand what it is to be successful and motivated.
Quote by Jim Rohn.
"You must take personal responsibility. You cannot change the circumstances, the seasons, or the wind, but you can change yourself. That is something you have charge of".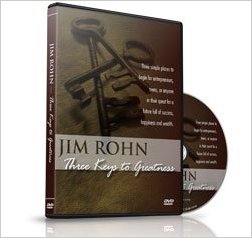 Success is just one click away. Are you born to win? as mentioned by Ziz Ziglar?
I believe you are.
The Jim Rohn Guides