Last Updated on April 9, 2022 by Andre
Many people have heard of Wealthy Affiliate, but what is the Wealthy Affiliate Free Membership About, and how can this help you become successful online?
What is Wealthy Affiliate?
First and foremost, Wealthy Affiliate is an online marketing training platform designed to help those who wish to learn the best way to create an online business of their own.
Yet there are many more benefits to what Wealthy Affiliate offers, as you will see further on.
Wealthy Affiliate was formed over 15 years ago by two friends, Kyle and Carson, who felt a lack of opportunity for people wanting to learn how to create their own online business while working from home.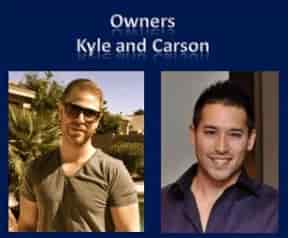 In those days (even now), there was hardly any proper training on building your own business, particularly learning all the necessary basics one needs to get started online.
Those that did give training were poor or inadequate.
Many were full of BS, full of unlawful tricks, or couldn't offer what was appropriately needed to learn the correct way online.
Some still offer false promises with little to show you but an empty hip pocket.
Many just scammed people of their hard-earned money with nothing to show for it.
What is the Wealthy Affiliate Free membership about?
There are three levels of membership within Wealthy Affiliate.
The Starter membership (Free to join)

Premium membership (Paid Membership)

Premium Plus membership (Paid Membership)
You can check out the differences between the three here.
However, we will focus on the Starter membership, which is what this is about for you and the one that is free for you to try out.
Free Starter Membership
The Free starter membership is your entrance point to learn the many ways how to create your own website based on your Niche.
You will learn from the ground up all the basic concepts of what is required to know even before creating your website.
By the end of Lesson Four, you will already have your website live for the search engines like Google, Bing, and Yahoo to find your site and have it indexed.
Indexed means that the Search Engines recognized your website on the World Wide Web
Of Course, just having a website online and indexed is one thing.
Creating content for what your website is about will require you to make an effort.
Together with the training and your work ethics, the world can be your oyster.
Who is the Starter Membership for?
The Starter Membership caters to all levels of online marketers wanting to learn the correct way in building an online business.
This is regardless if you have any, or some experience, or none at all.
You will learn from the ground up and, in no time, will have your online business set up and running.
The reason for the free membership gives you an insider view of what you will learn and how to earn money online.
How long is the free membership?
You can stay a free member for a lifetime; however, there are restrictions on what you can do further after the original 7 day trial period.
The first 7 days is more than ample time to see if this is for you.
The training you receive helps you to start earning online if you follow and apply the training.
Of Course, the Premium membership gives you more in-depth advanced training and many other resources should you be serious about making your own business a success.
The final success will be dependent on you.
Test the Waters
1. This is a great way to dip your toes in the water (so to speak) to:

2. Learn what Online or Affiliate Marketing is.

3. Learn how to create your own business online.

4. Be able to work from home or anywhere you have a laptop and internet connection.

5. Be your own boss

6. Work your own hours

7. Spend more time with your family.
Is this the opportunity you are seeking?
The idea of the Wealthy Affiliate complete training is for those who are serious about wanting to secure their financial future.
So why not take advantage of a free course, gain an insight into the online world and give it a go.
At no cost to you.
Important note to consider:
This is not a quick rich money-making way.
There are no push-button overnight ways as they are just scams.
Affiliate marketing is a steady long-term process as you are building an online business for life and not trying to become an overnight one-step wonder.
So if you are looking for a quick way to make money, this is not for you,
Good luck, as you will find that losing more money in finding the money-making scams can be pretty expensive.
Been there done that
I have been here at Wealthy Affiliate for seven years and no plans on leaving.
That is how confident I am with Wealthy Affiliate and what they teach.
You will find the same for you; it is free to start, so you have nothing to lose but much experience and knowledge to gain.
If you are looking for a long-term business to call your own and want to help others in the process with what you offer, then this is your opportunity to make something for yourself.
There is work to be done, just like any business online or even offline; however, you will have support with the training when you get started.
What is covered in training?
Starter membership Training
Below is an image of some of the training covers in your Free Starter Membership when you join Wealthy Affiliate.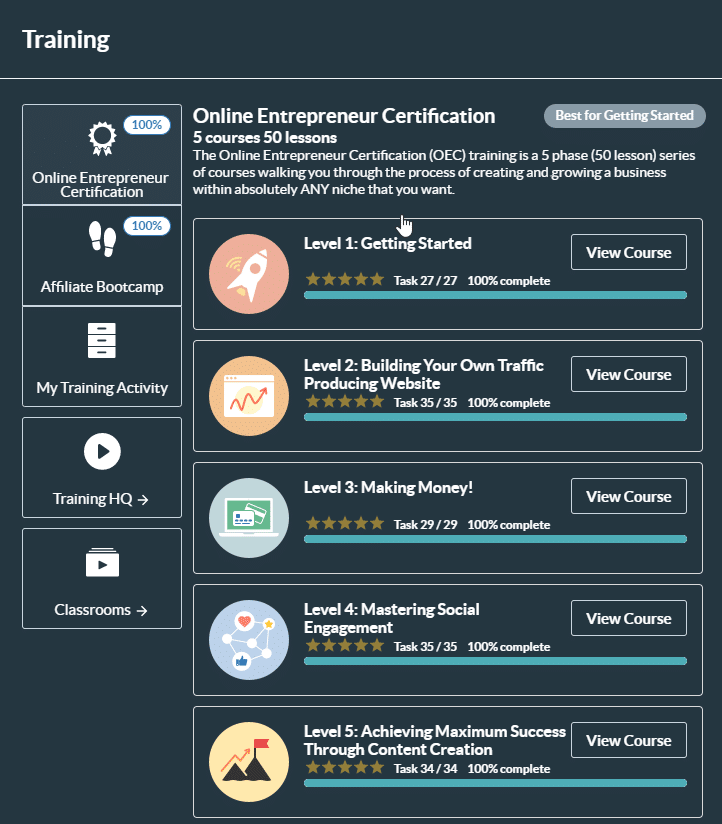 Online Entrepreneur Level One Course.
Your first ten lessons are free, and here are the topics covered below.
You will first learn about setting yourself up within Wealthy Affiliate

You will learn about the affiliate marketing process

Be able to learn what to create your business on (Hint Niche)

Learn how to create your own domain name for your website

Shown how to build your website from the base up

Learn how to get your website indexed by the major search engines like Google, Bing, and Yahoo. This alone is a significant step forward for any Newbie.

Learn the how and what of creating content (you will be writing a lot); don't worry, it gets better with practice.

How to set up your website with menus

Learn the idea of keywords that people are searching for and what is the best way.

Complete the tasks at the end of each lesson

You can even ask added questions at the end of each lesson should you have a need.
Affiliate Bootcamp Course Phase One
This is the second primary Course and is more designed for those wishing to promote Wealthy Affiliate.
As a starter member, you received the first Phase of Seven Phases free.
This first phase consists of ten lessons and some concepts of tasks to complete at the end of each lesson.
As a Wealthy Affiliate member, you are automatically an affiliate and can earn on the side apart from your website.
In most other organizations, you need to go through forms and fill out details and wait to be accepted if you are fortunate.
You are not required to do this level; however, should you wish, you can earn added commissions, and this is an optional course, not a requirement.
As a Wealthy Affiliate member, you are automatically an affiliate and can earn on the side apart from your website.
Here is the Structure of the commissions you can earn as a starter compared to Premium members.
Wealthy Affiliate has one of the most exciting affiliate programs available anywhere online one where you can earn consistent revenues by simply referring others to the community
Here is the commission structure you could earn along the way.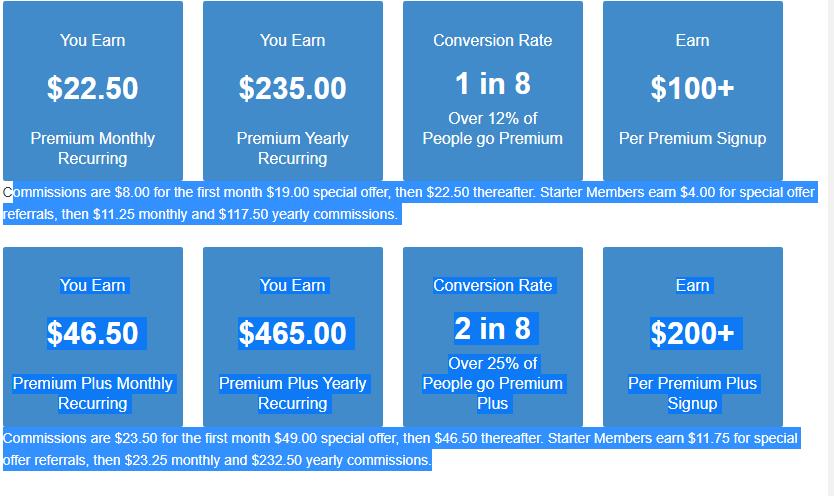 Wealthy Affiliate Commission Structure
But Wait! There's more!
This is something that's truly amazing with Wealthy Affiliate and literally unheard of with what starter members receive even for free.
Here is a summary of the benefits of being a Starter Member at no cost to you.
Online Entrepreneur Level One Course First Ten lessons (Free)Affiliate Bootcamp Phase 1 Course First Ten Lessons (Free)

Affiliate Program (Instant access) Earn commission and recurring commission even as a free starter member.

One Free Site-Rubix website to get you going (Did I say Free for you?)

Website Builder.

Fast Hosting Speed for your website (Free)

Free Theme included

Botnet Protection

DDoS Protection

Personal Affiliate Blog

Keyword Research Tool (30 searches Free)

Other Affiliate Program Search available through Wealthy Affiliate

SSL (Secure Sockets Layer) is a digital certificate that creates a secure link between a website and a visitor's browser. (Free for all Wealthy Affiliate members including Starter members)

Community Support of over 1.4 million members from around the world.

Ad and Scam Free environment for all members within Wealthy Affiliate.

7 Day Trial with some Premium benefits to check out (Free)
Still reading this, then you must be interested in wanting to learn how to earn online.
So what's keeping you from joining for Free and having the chance to earn while you learn Free!!!
Here is your chance now!
So if you have any further questions, let me know in the comments below; otherwise, I will see you on the other side and be ready to welcome you and give you my full support.
For Added Reading check out
Start To Premium And Beyond With Wealthy Affiliate
See you there