What is Click Wealth System About? Can You Really Make $10,000 Per Month for Only $9? Is this Legit? Or is this Another DFY System Wasting Your Money?

Welcome to my Click Wealth System review.
You may have heard of this product called Click Wealth System and wonder if this is a great way to make money online.
After all, they do say you can earn $10,000 per month.
All you need in an investment for $9 is to get you started.
Wow, $9 is this for real?
As an Affiliate Marketer for over 8 years, I have come across many programs that promise you quick riches only to take you for a ride with your money in their hands.
Some are totally scams while others are legit some are borderline on both scam and legit
And then you have some that are worth the effort.
You see I have been scammed many times in my earlier years and I don't want this to happen to you hence the reviews I cover along the way.
Fortunately, I found a better solution, an Alternative if you wish if you really want to learn how to make money online.
You will find there is a much better and truer way to work online that actually teaches you properly and honestly.
This will be covered more later on, but for now, let's get stuck into this review and find out if what they state is true and you can determine yourself if this is legit or another DFY system waste of time and your money.
So are you ready to read on?
Then let's begin.
Affiliate Disclaimer: This post may contain affiliate links.
This means if you click a link and make a purchase I may receive a commission. The price you pay will not be affected.
I did join Click Wealthy System to learn more for you but will be seeking a refund as I do not want to be part of this system they advertise.
Below is a copy of my receipt showing that I paid for the Click Wealth System and what I will cover will from a member's point of view along with many more findings along the way.
Points to be covered with Click Wealth System
Click Wealth System Overview: Key Points
Name: Click Wealth System Part of the ClickBank Network
Owner: Matthew Tang
Method: Using Email Marketing under the guise of Affiliate Marketing.
Pricing: $9, then 3 upsells plus more added costs to you.
Is it a Scam: No but can border for some
Is it Legit: Technically, yes as per most DFY Systems out there.
Ethical: You can decide on that but beware of their methods explaining this System.
Rating: 2/10 only because true Email Marketing can work but not when it's done their way.
Do I recommend Click Wealth System? No, especially for beginners.
When Did Click Wealth Start?
Click Wealth System was registered in March 2020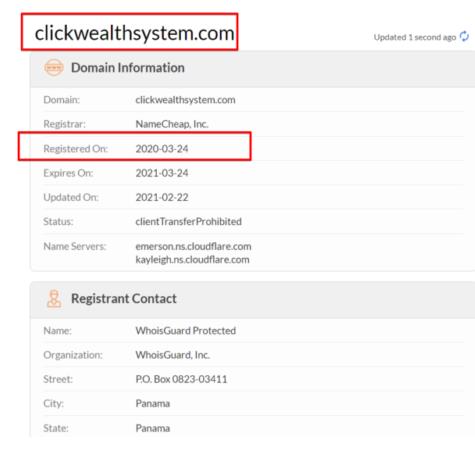 What is Click Wealth System About?
Click Wealth System is a DFY (Done for You) digital software found via ClickBank that uses email marketing as its method of choice which is one method that can be used in Affiliate or Internet Marketing.
The majority of DFY systems tend to use Email Marketing where you are asked to join at a lost entry of $9 and lead to believe you can make up to and in some statements, as stated in their video $10,000 per month or more.      
You will have 95% of the heavy lifting done for you (Sales Funnels and Opt-In pages) and you just need to do a few clicks to start earning money online.
It's as simple as that or is it?
Be wary of DFY programs, these quick money methods are never what they seem except for the creators.
If you want to build any type of successful business, regardless if it is a brick and mortar or one online you need to have the right mindset which will require work, effort, and the right ethics.
Having a set-and-forget attitude won't give you the success you are looking for.
What is Email Marketing?
Below is an excerpt from Wikipedia on the definition of Email Marketing.
You will notice one part they state is talking about soliciting sales this is where Click Wealth System comes in.
Now Email Marketing itself is a totally legit way when used properly however, there are some who tend to abuse subscribers in an attempt to promote other products that also can be spam or unwanted along the way.
Most of these will hopefully end up in the spam folder as the email list (which will be explained further below) is sent to subscribers from a vendor's email list who did not initially look for this product and can easily be considered spam email.
Who Is Matthew Tang?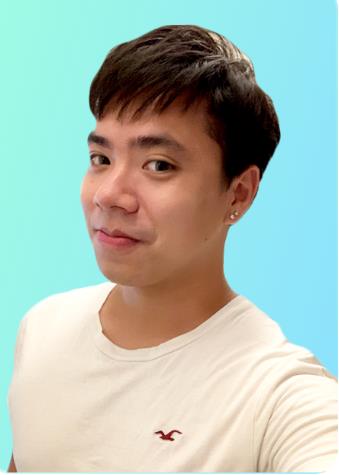 Matthew Tang is an affiliate marketer who has promoted many programs and as a result, has earned a couple of awards via Clickbank for a certain level of Sales.
The majority of awards were earned prior to Click Wealth System and that doesn't mean this was the result of his program.
Apparently, he is also known as the "Daily Profit Maker" however when searching for such a title it can't be found over the internet so most likely a self-made title.
In various reviews many have stated that he was an accountant for a local manufacturing firm however according to this he quit due to the economic downturn.
If fact he didn't quit but was let go due to the downturn.
Providing this is a true statement from him.
This is even stated in the sales video you can see below.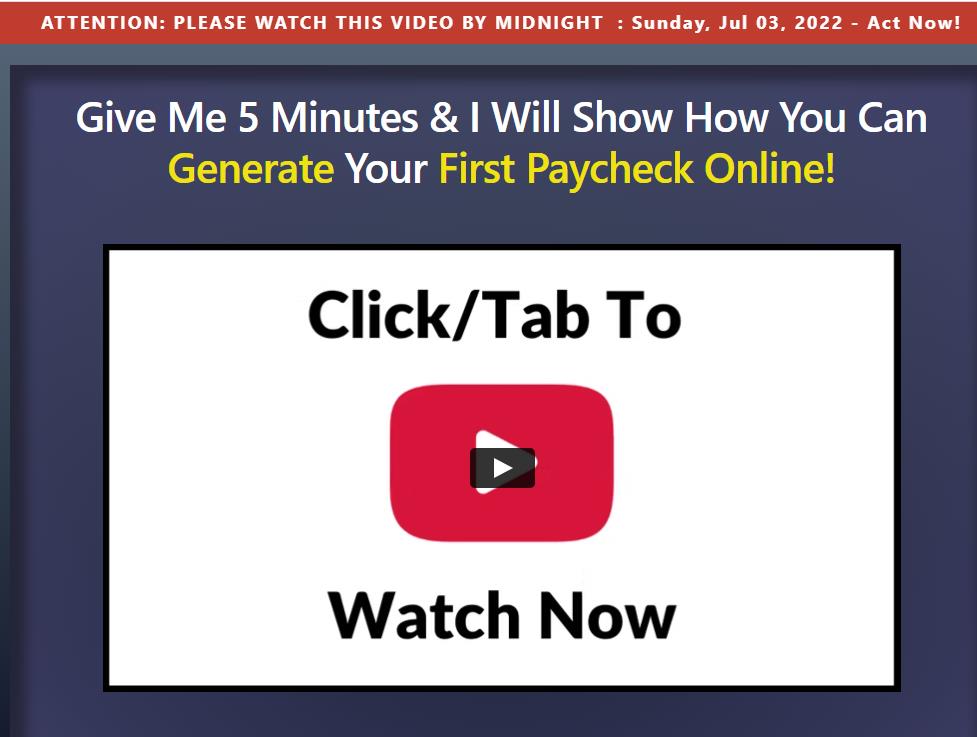 Also, note that at the start of the sales video the person speaking claims to be Matthew Tung however this is not Matthew just most likely a paid actor to go through the storyline instead.
Within the membership area, Matthew goes through the Click Wealth System which you can listen to it here. 
Funny when I first heard him speak he sounded exactly like Shawn Josiah another Affiliate who has his own DFY system called Perpetual Income 365.
Both are affiliates of ClickBank and their dashboards operate in a similar fashion along with the same methods they use.
So makes you think if his statements are real or just another fabrication similar to other DFY methods.
According to Matthew Tang, in his sales video, he discovered a method that internet millionaires use to make money online.
Customer Middleman Arbitrage
This is known as Customer Middleman Arbitrage a name he came up with to make it sound unique.
The real fact is, that he didn't discover this method at all.
It is actually known as Affiliate Marketing and you as the so-called middleman are really known as an Affiliate for that program.
This is just one of the many misleading methods used to make you think this is something new.
For those who have never tried to earn money online or don't know a thing or two can easily believe this scarcity hogwash.
What is the actual cost of the Click Wealth System?
At the beginning of the video shown above, you will finally see there is a huge discount Matthew offers so rather than charging $1997 for a full-on program you can get this for only $9.
He even goes on to say this is for the first 100 people and after that your opportunity is gone.
Again this is total rubbish this is just another typical misleading DFY scarcity ploy to hook you in.
The same cost of $9 was there at the start of his program back in 2020 and is still the same in 2022.
It won't change and there is no limit of 100 people while the program is available it will remain at the same price over and over again.
The program is available for anyone even after they get their 100 victims sorry I mean members to promote this program.
Once you have taken the $9 offer which is a lifetime membership you will find 3 added upsells to take in order to take you to the level where you can achieve financial security.
Click Wealth System Upsells.
Upsell #1 – Profit Activator – $147
Upsell #2 – Click Profit Multiplier – $148
Upsell #3 – 5x Profit Sites – $95
Plus a hidden one for $100 which I will explain further down under Bonuses.
Funnel Layout.
Below is the Funnel layout which takes you to two areas, the initial $9 can take you directly to the upsells of which there are three as mentioned above.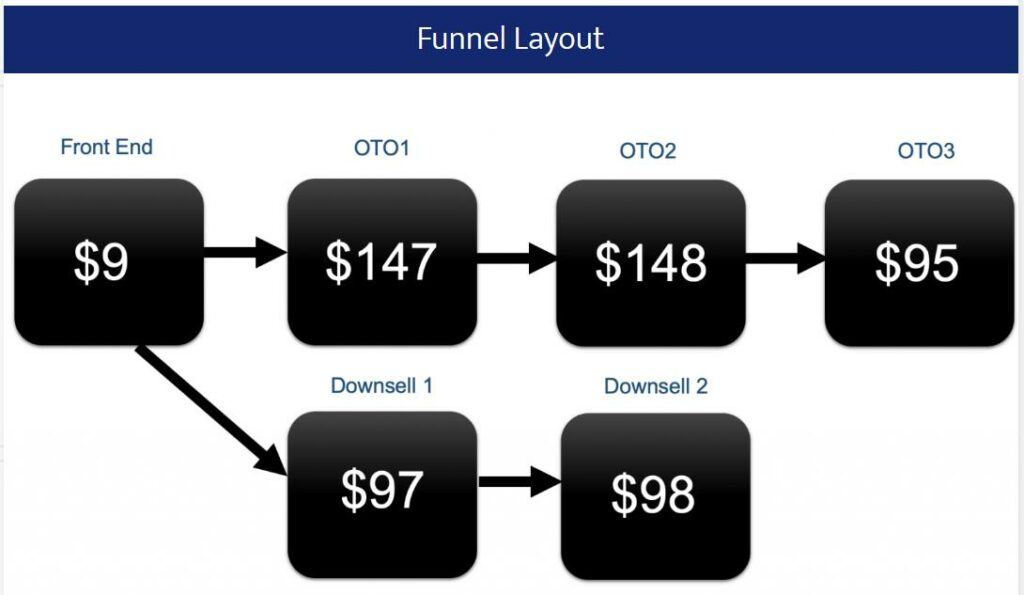 However, there is another difference in the way their sales funnels work and the prices are different another misleading representation.
Should you choose not to take the initial offer of either the $147 or $148 a window pops up and you are given a $50 discount which may entice you to take the offer at a cheaper price.
If you think about it, those that took the initial offer got ripped off with the prices.
Had they known not to take the first offer they would have gotten a $50 discount on two of the upsells but you won't get any discount should you complain.
Is that fair for those who took the original costs?
So what are these upsells?
Upsell #1, "Click Wealth System Profit Activator" ($147)
This upsell gives you access to 5 more sales funnels under the guise of being a website.
Firstly these are sub-domains and really don't do well with the search engines that is why they use Email marketing to avoid low ranking with the search engines.
Second, they call these websites but are sales funnels nothing more that take to you further opt-in pages In the same fashion.
The idea of these upsells is to customize your Funnels (aka website) to help increase further the conversion rate and to generate more leads.
Upsell #2, "Click Profit Multiplier" ($148)
This is a cloud-based email marketing app that lets you generate email swipes with the press of a button.
Upsell #3, "5x Profit Sites" ($148)
The last upsell enables you to create five additional DFY websites using cloud software.
You may refuse the offer at the bottom of each upsell page if you don't want to purchase them.
Matthew will give you a special discount every time you say no to an upsell. This seemed to be a frantic attempt to get you to spend your hard-earned money.
What does Click Wealthy System Include?
Inside the Members Area of Click Wealth System
Once you have paid your initial site and gained access to the members' area this is what you will see on the left is the dashboard..
Now it may look good in the layout but that is where it stops.

Here I will the dashboard's main parts I have already explained the three upsells above.
Getting Started Right
This is your initial starting point where you are asked to complete certain steps in order to use Click Wealth System,
Each step has to be completed before you can continue on toi the next step.
These don't take too long to do plus I already have a ClickBank account so I just needed to add my ClickBank Link.
I can easily set up an account with GetResponse directly if I wish to do so that is why it is not showing as completed.
I have no intention to continue to waste my money and time with this program as you will find out further down along with what has already been mentioned above.
The rest of the steps will require you to take the upsells and then continue onwards till all the upsells have been taken to gain full advantage of their DFY System.
Please note Step 6 and Step 7 will be covered separately as this is the damaging part with added costs particularly Step 7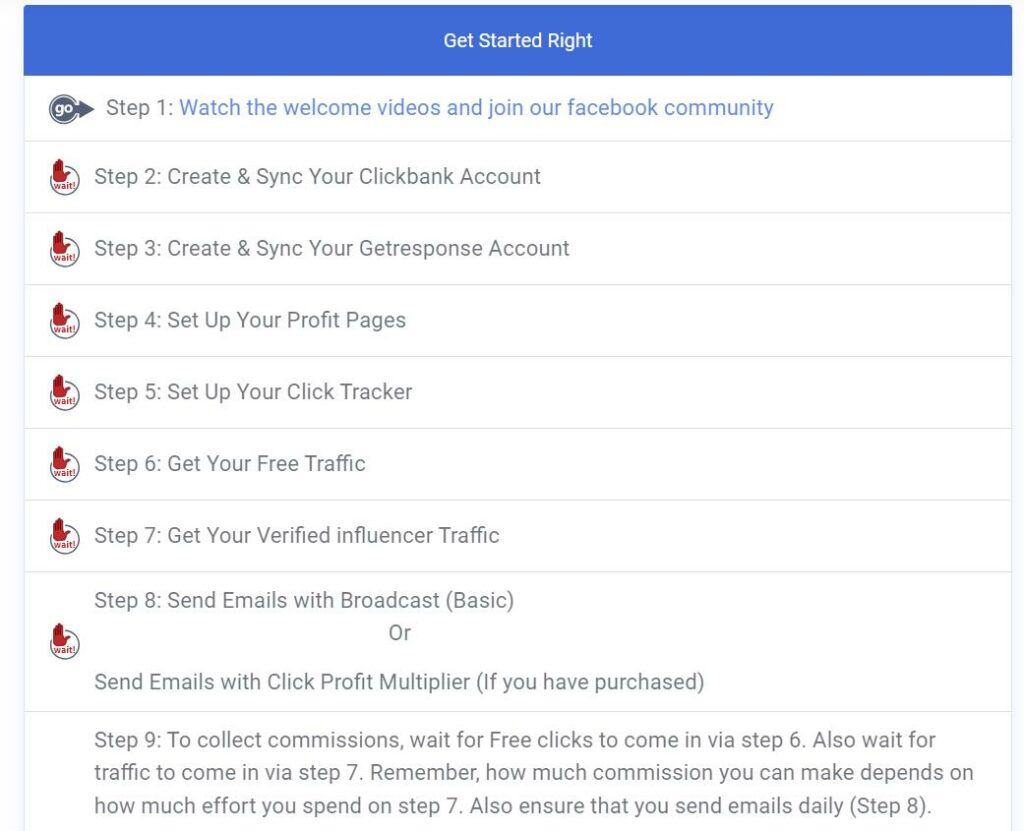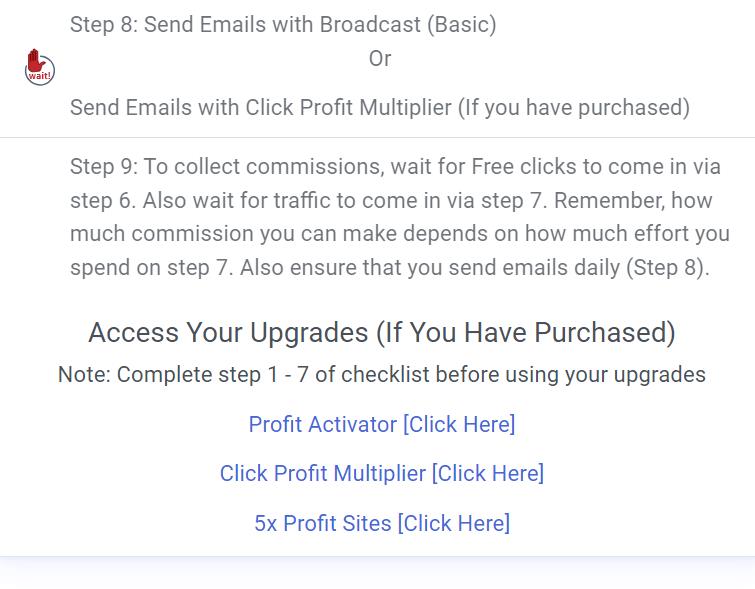 Welcome message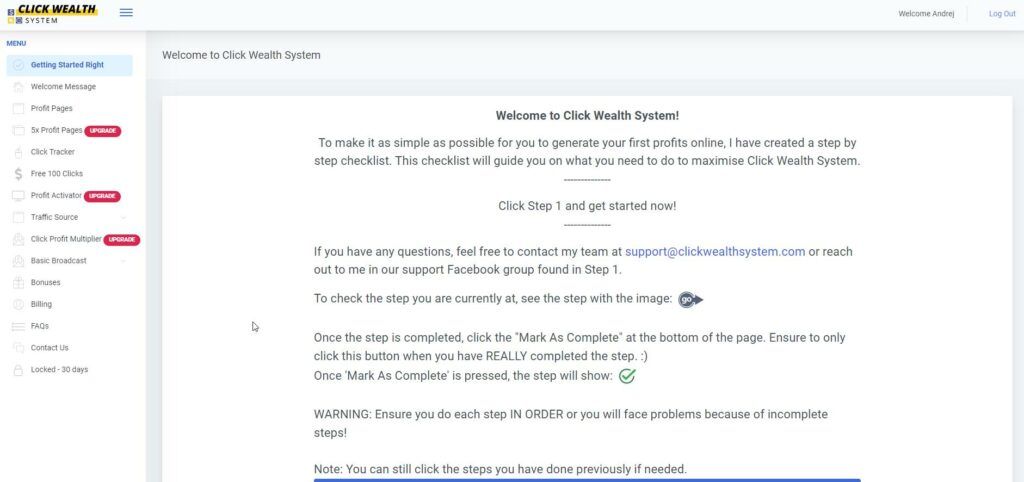 This is a welcome message from Matthew which goes for about 7 mins and that it just simply explains the program but not much is given away.
Not this is the only live Training if you call it that you hear from Matthew which doesn't offer any further training apart from PDFs you can download in the3 other sections from the dashboard.
Many of which are outdated and do not add much value. Some methods can get you banned from Social Media sites, especially FaceBook.
If you had the chance to watch the video I gave above and survived, congrats you will also find once you watch this welcome message and noticed that the man who called himself Matthew Tang is not the same person in this welcome message.
Profit Pages
Once you complete your account set up with GetResponse you move on to Step 4 Profit Pages.
Here you are given a choice of 10 Template to use but you can only use 1.
This is the part they say will be your website but it doesn't belong to you it still belongs to them and you can only add your affiliate link from ClickBank.
Plus it is not an actual website directly it is a sales funnel used on their Sub domains which don't tend to rank well in the search engines.
That is why they focus on Email Marketing to avoid search engines penalising them for poor quality content.
Should Click Wealthy System close down so does your ability to use these templates along with any commission you may be owed and any possible commission you may get.
.
As you can see they do look cheesy pretty much like the sales video shown near the top of this post.
This is another reason why having your own website is important.
You can learn to get free traffic properly without spamming anyone.
If you are a beginner and even this is an important part of your "SEO which Click Wealth System doesn't teach.
That is why my No 1 Recommended Training Platform will help you get there properly and legitimately and one you can be proud of to call your own.
Below are the standard type of cheesy templates the majority of DFY systems have.
Most often they share them with slight variations to make them look original.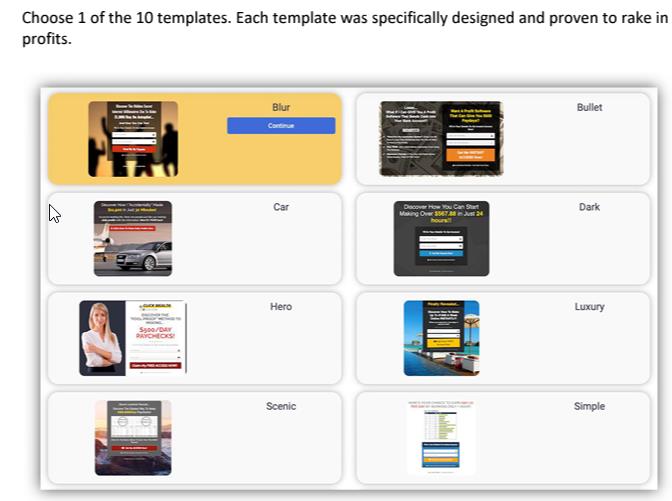 Click Tracker
This is not necessary especially at the start however the idea here is to be able to record where your clicks came from.
One thing to note here within Click Wealth System is this is useless plus when you go to the next step in Traffic source under influence traffic this is the message you get.

In other words, it doesn't work properly.
Free 100 Clicks
This is the special Free Bonus they talk about which may sound great but is really a waste of your time and effort and will do poorly.
Even Matthew admits to this but he will offer it anyway.
So why offer low-quality traffic to members that don't work.
A cheap stunt is all that is. Here is what Matthew Tang has to admit below.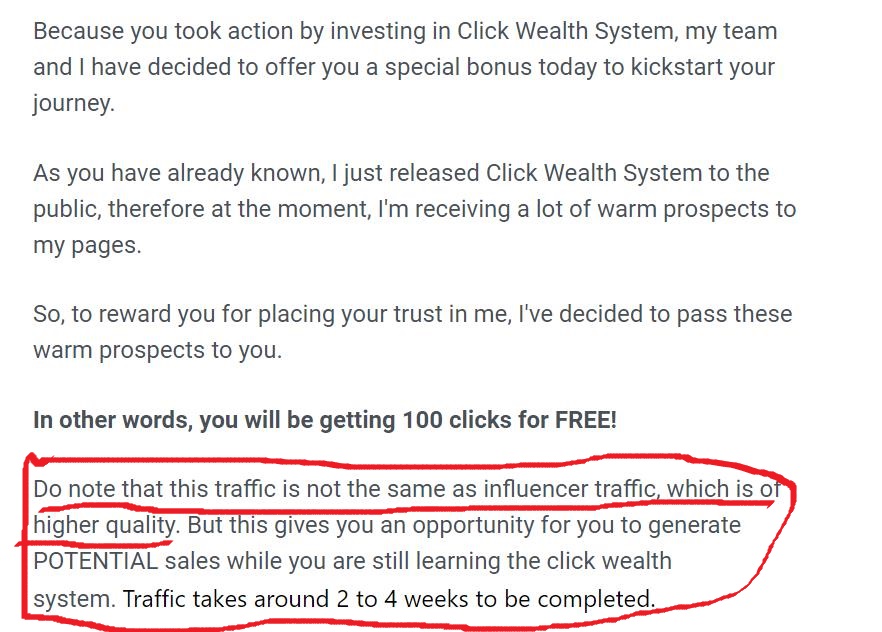 Traffic Source
There are two parts here the Free Traffic sources and I will cover these in more detail further below as this is where you can start to lose money
Free Traffic Sources

As with all the other sections you can download a PDF that gives you the basics of what to do.
This section mainly tells you how to use free traffic to social media platforms but many methods they state are outdated and can land you in hot trouble with various platforms.
Facebook, in particular, is not fond of MMO (make money online) links and you can easily get your Facebook account banned.
They also tell you to connect with family and friends to promote this same product this is where it smells of MLM-type promotion.
The last thing you want is to lose friends and family spamming them with links to a product that is not worth it. Never are losing your friends and family over this.
Influencer Traffic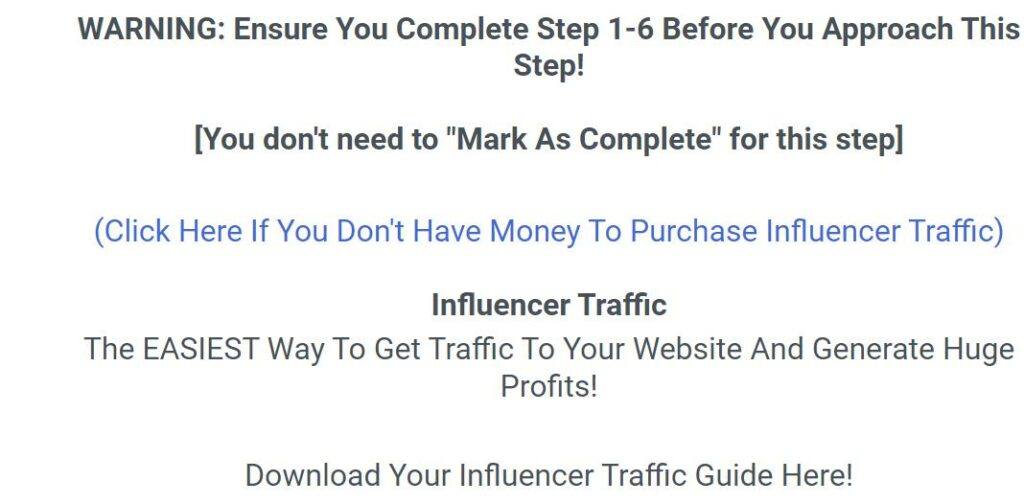 This is their recommended method obviously as Matthew gets kickbacks in added commission for himself as he is an affiliate for such methods while it becomes very costly to you.
Basic Broadcast
Two parts again.
Send Basic Broadcasts
The basic Broadcast is about sending an  email a day to the subscribers
You are only able to use this once you have built up subscribers which you will need and will be mentioned in deeply level when talking about the influencer traffic.
Basic Broadcast Messages
Once you have already built a list of subscribers this will show you a list of your broadcast messages that have been sent out.
So other areas will need to be done first before this happens. Not much more to add here until you complete those steps.
Bonuses

This section is a joke and insult to your intelligence it is just another hidden upsell of $100 to a program with nothing to do with Click Wealth System.
All it is about is creating a funnel with someone else again another commission for Matthew.
With Click Wealth System you are already getting sales funnels so why is the need to go elsewhere and pay for more along the way.
This is not only a total waste of time and your money but also an insult to you.
I am sure by now you are seeing where this review is heading.
Billing
Here you will see your transaction history and Click Wealth Systems letting you know if you wish a refund you can either contact them or you can go directly to your created ClickBank Account and get your refund there which is the better choice.
ClickBank can be trusted to get your refund back, With Click Wealth System not too sure.
They state a 60-day money-back guarantee make sure you do so earlier within 30 days with ClickBank a much safer and more secure option.
Also, note:
Make sure you have your receipt ready as you will need proof of purchase along with the receipt number.
Should you ask for a refund you will be blacklisted from joining Click Wealthy System again.
Not that this should be an issue who would want to come back anyway?
Just thought you would want to know. Do they have something more to hide?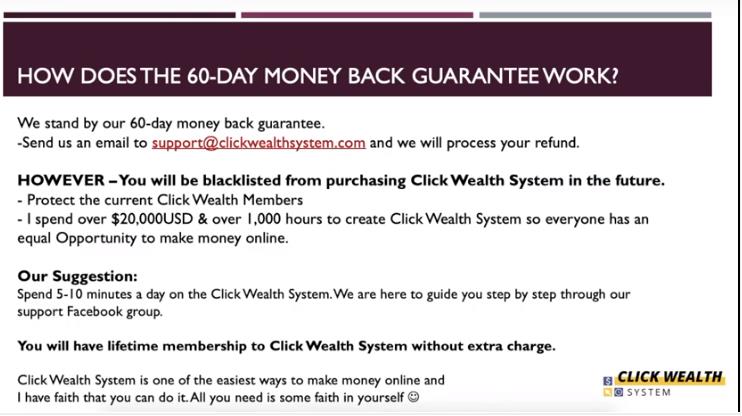 FAQS
This doesn't really cover much only the 4 questions they put to you.
Here there are.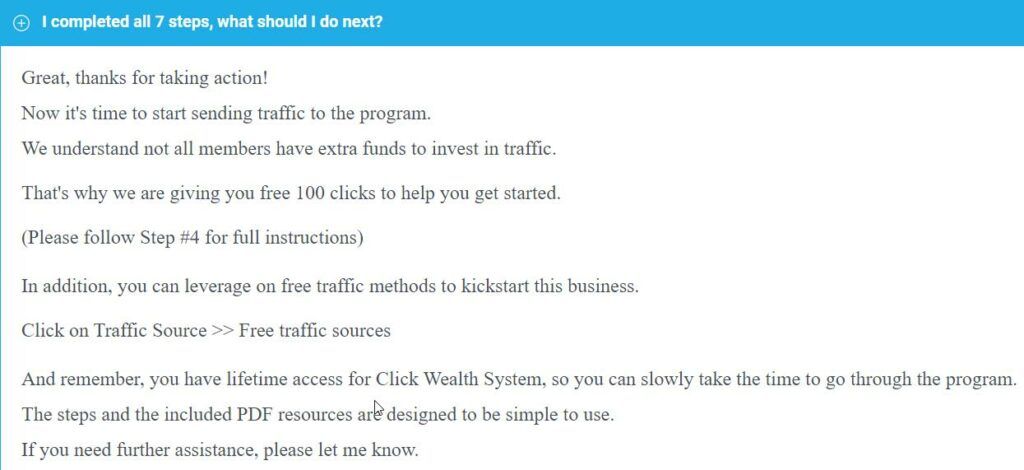 That's it for FAQs
The last part is just how to contact them and the final part is something that is locked for 30 days for a so-called bonus gift. I have another 28 days before it is unlocked.
Not that I need it but may decide to stay a bit longer out of curiosity's sake to find out what this is.
If I decide to stay I will update this then but will definitely leave when this time is up.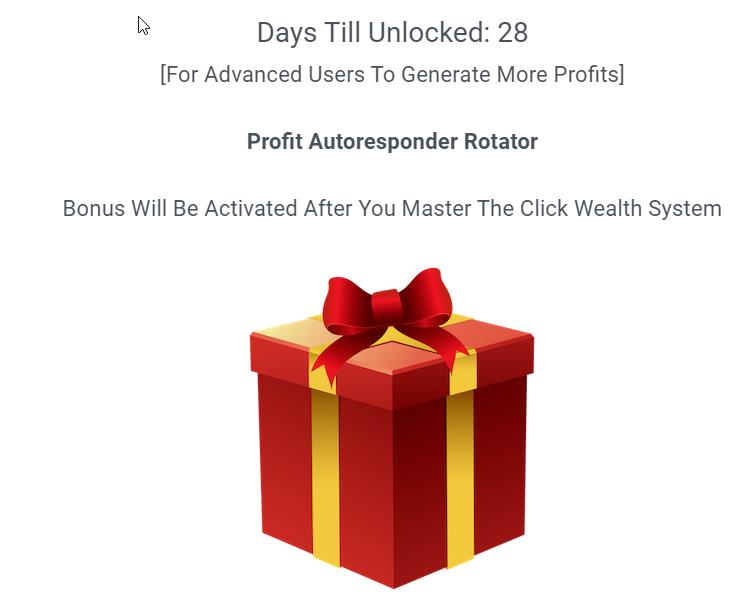 O.K. that covers what is inside the member's area so lets' go back to those important ones in Steps 6 and 7 I mentioned early as this is where your bank account takes a hit.
What Click Wealth System doesn't tell you at the start?
This is the follow on of Steps 6 & 7 in your getting Started Right at the beginning of the dashboard but also relates to the Traffic source further down from the dashboard.
This is about how much you can earn and the cost involved in getting traffic.
These are the hidden costs Click Wealth System hides at the start and the $9 is just a warm-up to take your money.
Getting Traffic
Here Matthew goes through two methods to get traffic to your sales funnels (ahem Websites).
Free Traffic Sources
Matthew calls this bonus training but it is just a PDF to download when you can use social media to promote your traffic.
This can work which is organic traffic (Free Traffic) which when done wrong can get you banned from social media sites especially Facebook as they are not too kind with Make Money Online posts or ads unless done properly.
Just a reminder in case you missed it this is what Matthew has to say about this obviously.

The influencer Traffic
This is what he recommends as naturally he gets added commission as a result of various sources you are asked to be part of.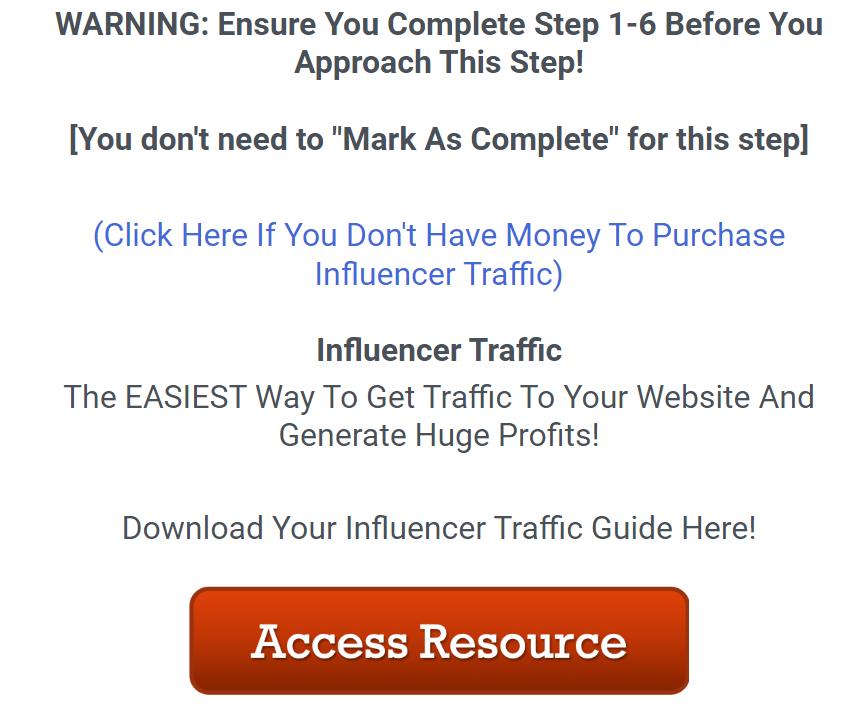 This is where the costs for you start to soar up high
How much can you earn using the Click Wealth System
Click Wealth System according to the owner Matthew Tang that you can make up to $250 per Sale.
Even be able to earn $10,000 or more per month promoting this program.
I have yet to see verified proof of such high claims.
Also, no one in the Facebook private group has stated they made that much.
In fact, as you will see further below some of the comments made within this so-called Elite group with a totally different experience.
You see many DFY programs tend to fabricate such claims as this can easily be done and they give no evidence apart from Matthew where these verified claims are proven by.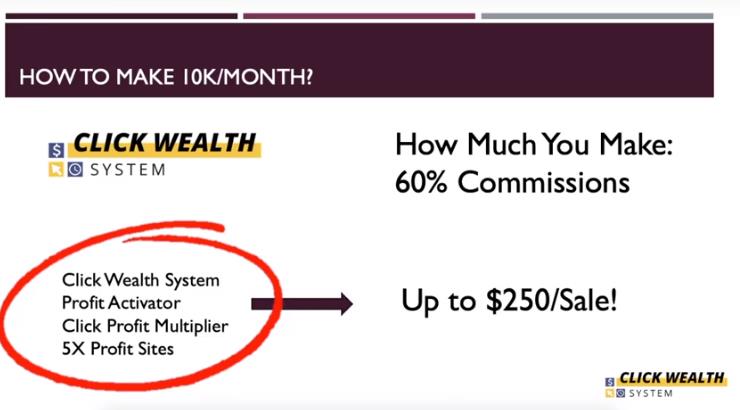 Don't for one minute think you can earn this much for just a $9 investment as there involved to get to that level which I doubt.
When I went to Clickbank (as I am an affiliate with ClickBank just like Matthew is, this is what is currently showing as the average sale.
This snapshot was taken on the 6th of July 2022.

Hardly matches their claims above or up to $250 per sale.
There are other parts in the video and elsewhere that even state up to $579 per sale so which is it.
Well, that depends on what Sales funnel you see and there are many various claims shown.
Yes, you can earn some money using Email Marketing, however, it is different when using their methods which is quite costly for you and most often a failure.
The upsells are nothing compared to these costs if you believe what they have to offer you for the top results.
Get Response
In the third Step of Getting Started, you are asked to create a Getresponse Account which is your autoresponder.
The autoresponder is needed in order to collect prospective subscribers along with generating sales through emails sent.
For the first 30 days, it is free to use then you will need to pay monthly to your selected accounts you set up. More Added costs along the way more commissions for Matthew.
Solo Ads and Udimi
Once that is done the next step is to pay for traffic via either Solo Ads or With Udimi.
You are given that choice but Matthew Tang will give you the names to work with this is where Matthew gets the added kickbacks with commissions while you pay heaps.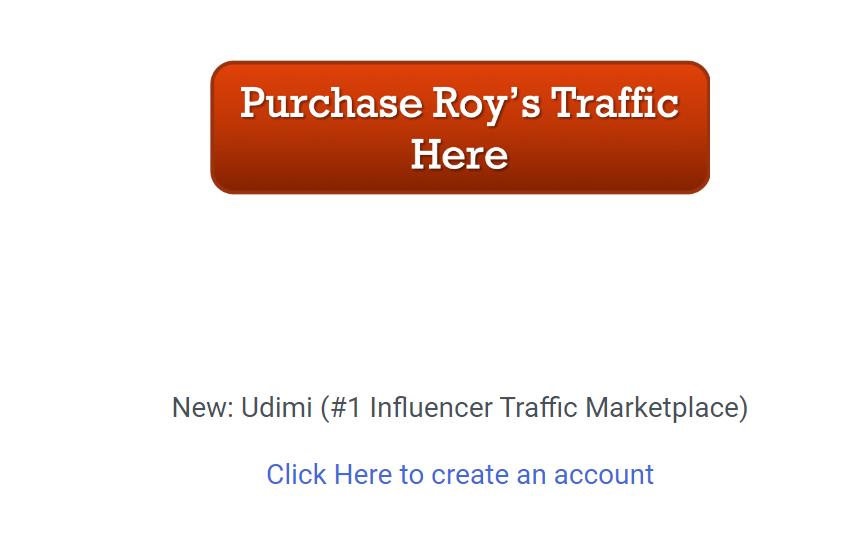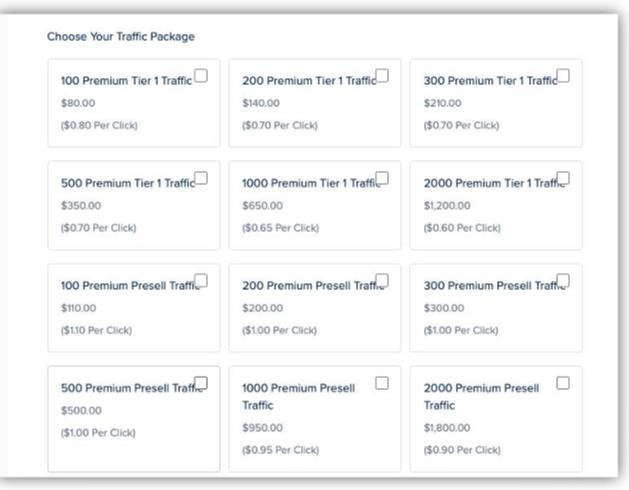 There used to be more names but now have been reduced to only Ray.
I wonder if these other email vendors have had enough of damaging their own email lists using Click Wealthy System.
Remember these are their individual lists and if people spam them they will struggle for any future attempts to promote other legit programs.
Imagine if you had a great email list of subscribers of your own.
Later you find out that this list you gave out just gets added to the spam folder never to be seen again.
Now you want to promote something legit and proper but can't use that list you built up for years how would you feel about giving trust to such programs in the future.
Solo Ads are not recommended I am sure some will swear by it but most wouldn't touch it with a 10-foot pole.
They are far too expensive along with the fact you are paying for a list from vendors who have their own email list.
You are reliant that such a list is good but no guarantee it will be.
Many solo ads have been found to contain bots (fake traffic) but you won't know.
You may see traffic with the clicks but not where they came from.
The cost varies depending on how many clicks you pay for.
Solo Ads can vary from .35 per click to up to $1.50 per click.
Remember what Matthew said earlier on those 100 free clicks? 
He makes it sound this is the best and really according to him the best way forward.
Now, what are the costs of such clicks?
Matthew recommends a few choices but to get that $10,000 per month or more you need more than a couple of hundred clicks. Try 10,000 clicks instead,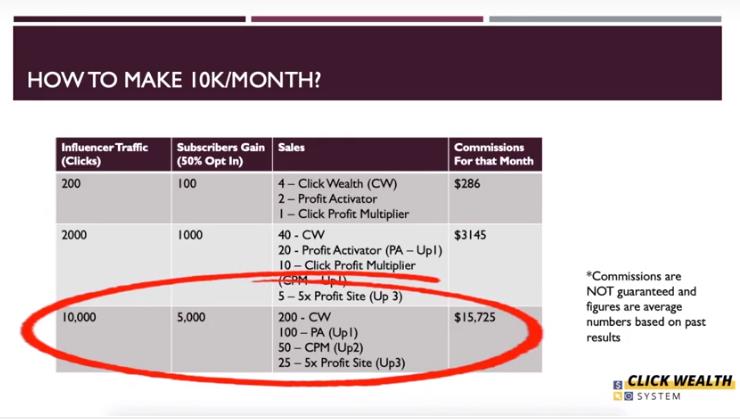 As you can see he recommends to earn $15725 per month you would need 10,000 clicks and the opt-in rate would be 50% taking the offer.
This 50% is grossly overblown it is more like 20% if that.
But let's say they are right for argument's sake.
To get 10,000 clicks you would need to spend anywhere between .80 to $1.10 cents per click.
Let's go to the middle ground and go for $1. Per click that would cost you straight away $10,000.
To think you paid $9 at the start plus the upsells plus need a monthly account with GetResponse after the 30 free days.
On top of that, you now have to pay $10,000 in order to get that $15,000 per month if you are lucky.
Is this the way you want to make money online?
Certainly not the way for beginners that's for sure.
I am being generous with the costs it could easily be $1.50 per click seeing you are looking for 10,000 clicks.
If that was the case you are looking at paying $15,000 to get an extra $725 if their details are accurate.
As you can see you thought you would make so much money for a small investment of $9 but what they don't tell you are all the added costs you need before making such a ridiculous amount.
Not saying you can't make that much per month but not in this way and it will not happen for a while.
Many true affiliate markets can take years to get to that stage per month and they need to put in the effort and hard work not just 5-10 mins a day as Matthew tells you.

Is he for real with such a comment?
Facebook Elite Private Members Group
Wow, this sounds awesome to be part of the Elite group however once you are in it is nothing that you thought it would be.
Yes according to their Facebook profile they have around 7.128 members but this would be a total not actual.

The Facebook group was created back in 2020 there has been no activity at the time of writing this 6th July 2022 for a while the last action was by a member seeking help in May 2021.
I notice a worrying trend here.
Matthew's last communication was in 2020 he doesn't respond to any messages members are seeking.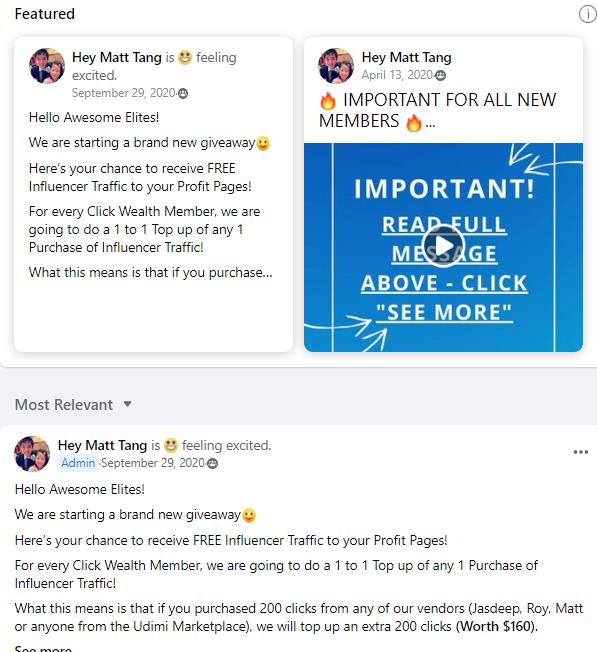 There is hardly any activity at all last was in Jue 2022 before most in May 2021 and that was from a member seeking help.
Yet Matthew hasn't bothered to assist, communicate or add solutions to their issues or questions.
In fact, it seems he just decided to ignore his paying members and leaves them out in the cold to defend for themselves while he rakes in the money.
Here are just some of the issues members are facing and you will see the dates are old.
Thoughts and views about Click Wealth System From Facebook Members.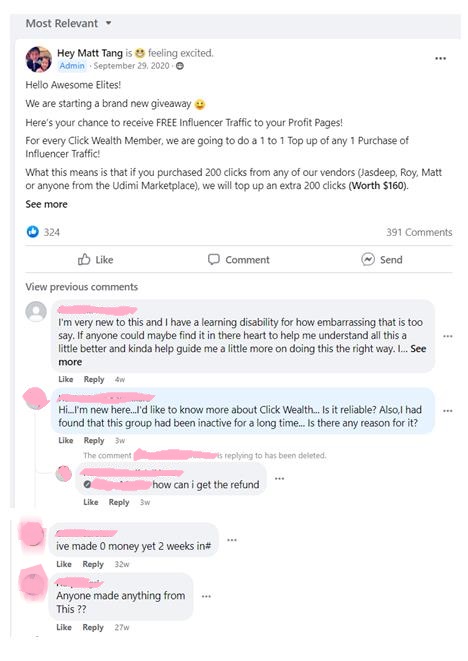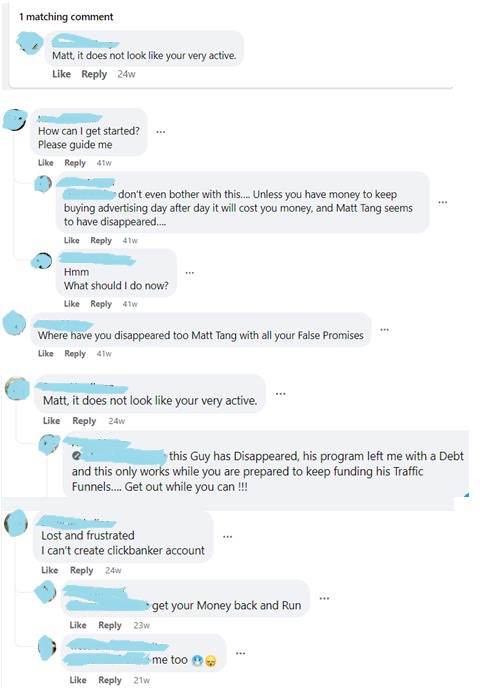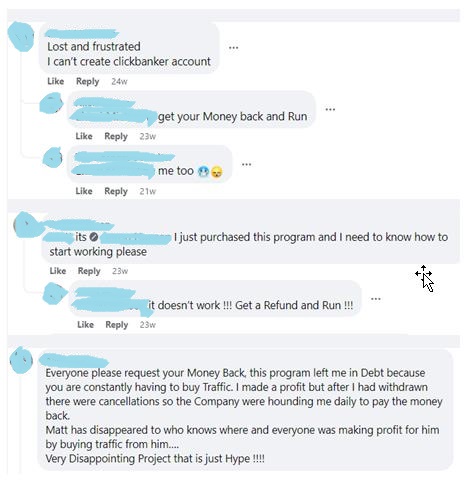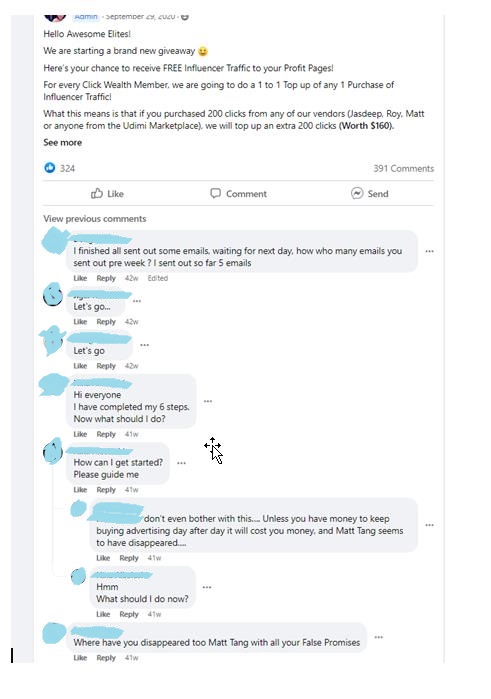 Do you honestly believe you can make $10,000 per month with all this lack of support?
Is this the type of support you want to get from a so-called Daily Profit Maker?
This is not how you run a business at least honestly instead it seems more like taking the money offer no help along the way.
I don't think so.
Pros
Legit but borderline
$9 initial Entry fee is Cheap For What You Get.
Affiliate marketing and Email Marketing are real business methods.
60-day Money-Back Guarantee. Note you will need your receipt to claim so keep it handy.
Cons
Misleading information
Relies on Paid Traffic (Not the best way to start affiliate marketing)
You don't own the page funnels
DFY systems don't work as they say
Relying on other email vendors list (may contain Bots)
Upsells plus Hidden costs
Using Solo Ads (not very reliable) can set you back into the thousands
Not beginner-friendly
No real trainingA load
of outdated PDF downloads
No assistance within the Facebook community
Self-promoting the same program that has no real value in itself.
100 spots left are untrue total fake scarcity methods.
The statement you only need 5-10 mins a day is totally false and deceitful.
Final thoughts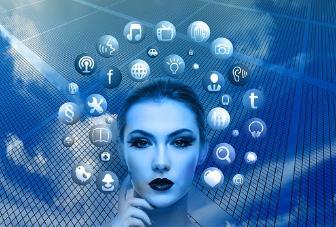 I guess by now you have already your thoughts about Click Wealth Systems and if this is something you want to avoid or still want to take the chance.
I have come across other DFY systems that operate in the same way such as
Done for you systems all operate in pretty much the same manner.
They tend to use paid traffic using Solo Ads.
Give you the impression you will earn very quickly on a monthly basis pretty much from the start.
All have their misleading information and use scarcity tactics to make you think this offer will rise so take it now while it is cheap.
They never rise and the timers they use never stop and you won't miss out.
Click Wealth System is the same and you in my humble opinion will just lose out big time if you think you can earn $10,000 per month as stated by Matthew Tang.
I would love to hear your views if you have taken this offer before and if you have had success and can prove your earnings along with what you have spent to make a profit that would be great.
Click Wealth System is not a scam and is legit I just don't believe this is the right way to start earning money online the way it is shown.
Affiliate marketing takes time, and effort, having the right mindset along with helping people using your own website.
To do well you need to have proper training which Click Wealth System doesn't provide let alone provided support as you have seen in the Facebook group.
I guess by now you have already your thoughts about Click Wealth Systems and if this is something you want to avoid or still want to take the chance.
I have come across other DFY systems that operate in same way such as:
Done for you systems all operate in pretty much the same manner. They tend to use paid traffic using Solo Ads.
Give you the impression you will earn very quickly on a monthly basic pretty much from the start.
All have their misleading information and use scarcity tactics to make you think this offer will rise so take it now while it is cheap.
They never rise and the timers they use never stop and you won't miss out.
Click Wealth System is the same and you in my humble opinion will just lose out big time if you think you can earn $10,000 per month as stated by Matthew Tang.
I would love to hear your views if you have taken this offer before and ifi you have had success and can prove your earnings along with what you have spent to make a profit that would be great.
Click Wealth System is not a scam and is legit I just don't believe this is the right way to start earning money online the way it is shown.
Affiliate marketing takes time, and effort, having the right mindset along with helping people using your own website.
To do well you need to have proper training which Click Wealth System doesn't provide let alone provided support as you have seen in the Facebook group.
My Alternative for you.
If you truly want to learn how to build your own online business and even learn the right way then you can check out my No 1 Recommend Training Platform in Wealthy Affiliate.
You can start a trial run for 7 days at no cost to you no credit card is needed.
You get 10 free lessons that go for about 45mins to an hour each and receive training by one of the co-founders in Kyle plus more resources given to you.
Wealthy Affiliate has been in business since 2005 that's 17 years and still going strong..
There is also a 24/7 Live Chat from members worldwide.
Look forward to welcoming you at Wealthy Affiliate.