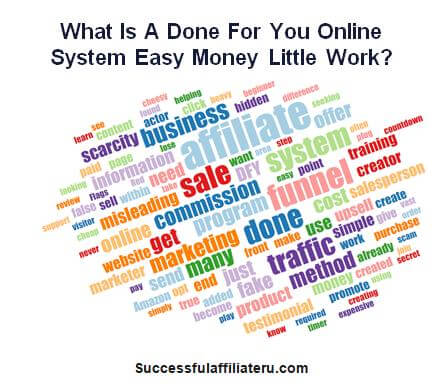 What Is A Done For You Online Business? Can you really Make Easy Money with Little Work by You? Is it as simple as they say? Beware of the Red Flags.
If you have spent some time looking on the internet looking for ways how to make money online from home, you have most likely seen some of these Done For You Online Business systems.
They can go by various names such as DFY systems, Plug n Play Software, or Business in a Box.
Some may claim it's a simple 3-step method and you just need to send traffic with a push of a few buttons.
These DFY systems claim that they do all the heavy lifting for you and just simply need to send traffic to the funnels they create for you.
However, it is not as simple or easy as it seems to just send traffic and watch the money come rolling in as they make it out to be.
There is more than meets the eye with such DFY Systems.
Fortunately, you are here and I will help you understand more about the truth they don't want you to know until you join.
If you are thinking of joining one of the DFY Systems then make sure you read this article in full.
There are many parts you need to know before taking on such a venture and it won't be cheap.
Along the way, I will show you an alternative where you can learn Affiliate Marketing the right way.
One you can even test drive for free and see if learning true affiliate marketing is for you or not.
What Is A Done For You Online Business?
A done-for-you online business is a method where sales funnels and opt-in pages are already created and ready for you to use.
This is the heavy work done for you as creating sales funnels and opt-in pages can require time and effort to create.
Your task is to send traffic to the front-end offer found within the sales funnels.
Should someone buy your front-end offer you make a commission.
Front-end offers are usually cheap low entry points to the product so the commission can be low.
The main commission is from the back-end offers, these are the upsells you don't get told until you join.
Most often such products have no real value in themselves and that is where many feel such Done For You Online Businesses are scams.
The reason many avoid being called a scam and are technically legit.
The reason is they offer some sort of basic training and some PDFs sent out to you, some are useful some are outdated.
Some may be authentic advice but those can be super expensive to start but that doesn't mean they are truly honest in what they state.
Who Are Done For You Online Business For?
Although many DFY programs will say this is for all from beginners to advanced marketers it is mainly aimed at beginners who don't know anything.
It is easier to convince those who know nothing about earning online.
This is why someone with no experience and just wants to earn quick money online tends to fall into these DFY programs.
The problem is many do not realize there are more costs (which can get quite expensive) involved than just the simple concept of sending traffic.
Setting up sales funnels yourself can take much time and effort so that is helpful.
For beginners who have never done any form of online or affiliate marketing creating funnels can be a daunting task
However, it is not as simple as just sending traffic and waiting for the money to come in.
Advanced marketers wouldn't touch these plug-n-play systems with a 10-foot pole at best.
Done For You Online Business Affiliate vs Affiliate Marketing Affiliate Key Points
Here there is a vast difference between the two methods.
DFY Online Business Affiliate
You pay for the service to have sales funnels already created.
Added costs are involved with paid traffic to the funnels
As an affiliate for a DFY program, you will receive a commission for the sale depending on the upsell.
In order to gain a higher commission, you are required to purchase the upsells.
You are essentially a Salesperson for the creator promoting their product for the sake of selling their program only.
You will be required to pay for traffic to who they recommend along with creating other accounts where the creator will get added kickbacks as a result. More extra costs to you.
Your customer who joins becomes an affiliate and promotes the same program as you. The cycle repeats.
This affiliate you just brought in becomes your fellow competitor and most often uses the same funnels as you. Perhaps using the same email list.
You do not own any website or sales funnels the business is not your own but belongs to the creator of the program.
Should that business wind down or shut down you lose everything including any commissions.
Affiliate Marketing Affiliate
You can get comprehensive training on how to build a solid foundation for your own business
As a website owner, you can use a sales funnel if you wish though not a requirement.
You can also create a landing page yourself which can be your sales funnel at no added cost if you learn the right way with a true training program teaching many facets of affiliate marketing.
You can join many other affiliate programs and become an affiliate for them. Here you can promote any offer that is related to your chosen niche.
As a true affiliate marketer, you do not need to purchase the product in order to promote and sell to get your commission.
You have can top-quality training in many areas that far supersede any Done For You system.
You learn how to get your website indexed and the content you create ranked in the search engine that will attract Organic Visitors (free traffic) as opposed to paid traffic.
As a true affiliate, you will be helping your visitor to solve a problem or issue they are seeking rather than being a cheesy salesperson.
As you can see there is a vast difference between being a so-called affiliate (salesperson) for a done-for-you online business compared to being an Affiliate Marketer within Affiliate Marketing where you are your own boss and the website is the business that you own.
Recommended: Go here to see my #1 recommendation for making money online.
Done For You Online Business Red Flags?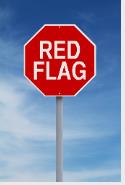 No doubt you have already seen some Red Flags that may get you thinking.
There is much misleading information they give out.
Scarcity methods
Countdown timers
They will use many types of scarcity tactics such as a countdown timer.
When you open the link to the sales video you will usually see a 60 min timer.
When this runs out you are told the price will go up never to be repeated again.
False, when the timer runs out the price will always be the same
If you close the video and come back in, the timer restarts at 60mins plus there is no price increase.
This is just another scarcity marketing method to think you are on a good bargain and take the cheap offer.
Pop up window when leaving.
Here you see the message are you sure you want to opt out?
In doing so you are giving someone else the opportunity to take your place.
There are some that will tell you this is for the first 50 or 100 people and after that, you lost your opportunity. You will never lose your opportunity as while the program is available you will always be able to join.
False Misrepresentation
Many such programs will give you fake talk about some hidden secret that they found that only millionaires know about and you can do the same now.
Or some rubbish story of some secret algorithm that places like Netflix, Amazon, etc. know about but has now been leaked out.
Again total rubbish they are just typical marketing methods to try to convince you that you can now know the secrets and can earn massive amounts online.
Here is when you see those countdown timers that state when the timer finishes the cost will rise.
They don't and if you hop out and come back in you will see the timer start all over again.
Fake Testimonies
Again many will use fake actors to give testimonials saying how this done-for-you system has earned them an income that they now are working full time and quit their day job.
Hardly any or No support from the creators
Once you join many will often have an elite Facebook private-only member's area.
The majority will find there is hardly any support from the creators.
Most often you need to rely on other members to help and many are either fake or not remaining members but the numbers still show that they are.
Misleading Information
The majority of the done-for-you systems tend to operate in the same way and often use the same funnel layout and structure as each other.
You give them misleading information, play on their emotions, and wait for the bait to be taken.
They often use standard Marketing Sales techniques found in many areas even outside the online world.
They just rephrase them differently with misleading information, some use actors with fake testimonials and often made up proof of earnings from other members.
Some are true most are made up which is not hard to do.
Some examples of the misleading and fake testimonials can be found in a few reviews I did on some Done for You Systems
You can read more on those below.
Do done for you Sales Funnels Work?
If done properly and ethically yes they can work but are very expensive when it comes to paying for traffic.
Should you join a proper affiliate marketing training program you can learn how to create your own landing pages without the added costs or upsells.
As an affiliate marketer, you can simply create unique content on a product or even a product review.
You are helping your visitor make an informed choice about what they are seeking.
When they are happy with want they read your link will be clicked and taken to that particular product or service you are promoting directly to that site.
You can use Amazon as an example they click your affiliate link which sends them to Amazon and they can purchase what they are looking for.
You get the commission they get the product they are seeking and both parties are happy.
That is why when creating your content you are simply helping your visitor to make an informed decision for them from the help and support you give them.
People don't want to be sold to buy this or that.
No need to sell, no need to be that cheesy or to a point sleazy salesperson.
They already have an idea of what they are looking for but will research online for further information on what is best for them.
Your role as an affiliate marketer is to help them with ideas and possible suggestions than may not have known about that particular product or service.
When you help them understand more you will find they will be more willing to read more content that interests them.
As a result, you will have developed greater trust and relationships with them.
Now the trust has been developed you will find they tend to visit your website more often.
Treat them like you are helping a friend, not as a potential sales number.
Done For You systems just want to sell to you not help you there is a huge difference with that.
Pros and Cons of Done For You Online Business System
Pros
Sales funnels and opt-in pages are already set up for you saving some time and effort.
 You can make some money (hopefully)
 Email marketing is a legit method
 Affiliate marketing is legit
 That's it for the Pros
Cons
Hidden costs
Paid Traffic is expensive
Not for Beginners
Many have misleading information
Many have false proof
Often use fake actors for testimonials
Uses scarcity methods
Hidden upsells
You are just selling the same program as everyone else (salesperson)
You will be making more money for the creator than yourself.
Sales funnels are not really needed to promote a true offer.
Final Thoughts
As you have read there are some positive areas such as funnels being done for you to save you added time and effort.
You can earn some money online using these methods.
But at what cost to you?
You have also read many of the Red Flags they tend to use and there is nothing new to what they state.
It is unfortunate that such methods are abused and become misleading.
I have tried many Done For You Systems in the past and have never been happy with the way they lie and operate.
So I don't want to go for paid traffic where I don't know who these people are I am sending traffic to.
Alternative Option
Affiliate Marketing is real and a trusted method to be part of.
The best way to learn is from a training program I am about to tell is that has been in operation for just over 17 years and still growing strong with over 1.4 million members.
You will learn all the right ways to become not only an affiliate for many programs but also learn how to create your own online business with a website.
You will be taught how to get the content you create based upon your chosen niche but also get them ranked in the search engines like Google, Bing, and Yahoo.
There is so much to learn and if are not sure if affiliate marketing is for you.
You can even test drive for free and see if this is something you would love to do and earn online.
No credit card is needed
Yes, there is a premium membership but only if you are happy and serious about wanting to be successful online with your own website and business.
This training platform is called Wealthy Affiliate and I have been a member since 2014 and love it.
You are not forced to take the paid membership but this will give you so much more added training and many resources as a result.
That is your choice to make so if you want to give it a go click the image below and I will be your mentor along with many other members worldwide only too willing to help each other.